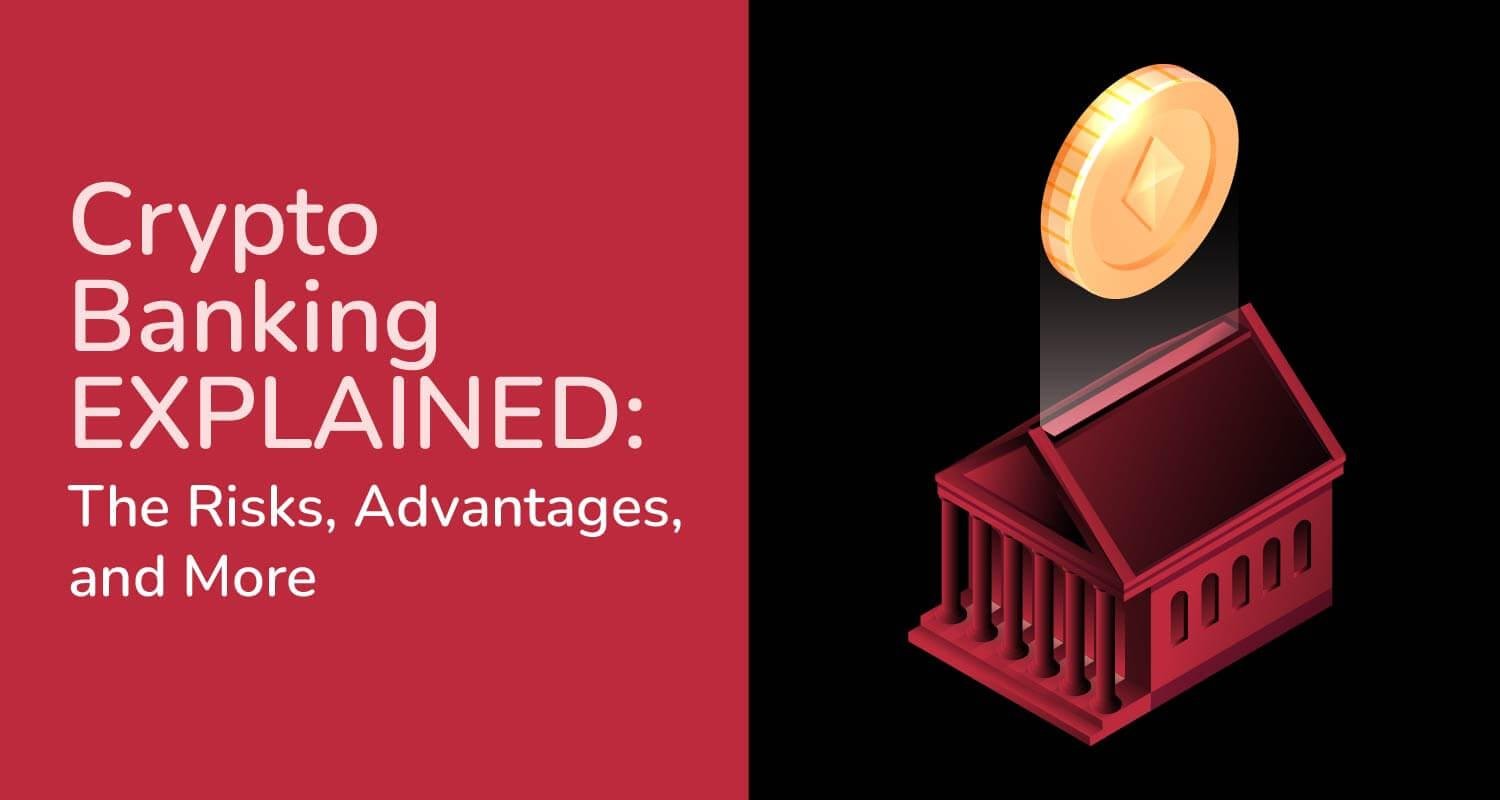 Crypto Banking EXPLAINED: The Risks, Advantages, and More
Cryptocurrency assets started catching people's attention in 2008 when Bitcoin was introduced.
Its popularity grew even more, especially since it's been more accessible to a broader population through online brokers. 
Along with the term "cryptocurrency" or "crypto", you might also hear another buzzword: crypto banking. 
You might feel confused about what this means. Is it similar to the banking activities we usually do? Are crypto banks the same as regular banks?
Fortunately, we're here to explain in detail what crypto bank and crypto banking are!
What Is a Crypto Bank?

From the terms crypto (digital currencies) and bank (licensed financial institution), we can say that crypto banks are licensed agencies providing financial services for dollars and crypto assets.
To exemplify this further, take a look at the 3 crypto agencies in the US, specifically in Wyoming: Kraken, Avanti, and Custodia.
Through a bank charter created in 2019, these agencies were enabled to become limited banks, also referred to as a "special purpose depository institution."
Additionally, Vast Bank was the first nationally chartered company to buy, hold, and sell cryptocurrency in the US.
But what are its differences from traditional banks? 
Unlike traditional banks, crypto banks can't lend fiat money to their clients. They also LACK insurance from the Federal Deposit Insurance Corp and full regulation from the federal government. 
While some banks allow their clients to buy, sell, and hold crypto assets, it's not enough to say they are alike. 
Even though traditional banks are able to handle digital assets, it doesn't mean to say that investing in crypto is already insured. 
Although banks like JPMorgan and Goldman Sachs are authorized to deal with US dollars by the Federal Deposit Insurance Corp., the crypto part of the business is not federally regulated in any way.
What Is Crypto Banking?
Now that you already know what a crypto bank is and its main differences from a traditional bank, let's discuss crypto banking. 
Crypto banking works quite similarly to regular banking services. But instead of managing fiat money, you are dealing with digital currencies. 
Such activities can take place in different financial institutions or banking providers. Crypto exchange may also happen with online brokers and trading platforms.
The major difference with traditional banking services, however, is that with crypto banking, clients are INVESTING in crypto assets. Investors can't manage fiat money and credit, as well as checking accounts, savings accounts, and loans.
Simply put, crypto banking only involves:
Holding digital assets
Making payments with a crypto debit card
Gaining interest from one or more cryptocurrency assets
Getting Started with Crypto Banking

So, how do you actually start investing in digital currencies?
The first thing you must do is buy crypto assets. Sometimes, you might need to own a crypto wallet before doing such transactions. It can be challenging to get a hold of one, especially for beginners. 
But there are crypto companies and platforms that can hold assets on your behalf. Yet, you can only access these FREE wallets by signing up on their websites or applications.
PRO TIP: If you wish to use different trading platforms in managing investment products or make in-person transactions, such as Bitcoin ATM withdrawals, consider setting up cold wallets.
Crypto Interest Accounts
Starting with crypto banking also means setting up an account. One type of account you can open is a crypto interest account.
In simple terms, cryptocurrency accounts are similar to savings accounts in traditional banks. But instead of dollars, the account holds crypto assets.
The crypto bank would borrow money from your savings account to loan digital currencies to other clients who wish to venture into the crypto market. In return, the crypto bank pays you interest.
Generally, with this, account holders can make deposits and earn interest from their existing tokens.
Crypto interest accounts are COMMONLY offered by platforms supporting crypto exchange, lending protocols, and staking companies.
Crypto Checking Accounts
Aside from a crypto interest account, you can also set up a crypto checking account.
Typically, this type of account doesn't require account holders to pay monthly fees, allowing them to store more money.
Unlike crypto interest accounts, crypto checking accounts are non-interest-bearing, personal checking accounts. This means that earning interest is not possible with such accounts.
Institutions like Quontic Bank and Vast Bank offer cryptocurrency checking accounts.
Is Crypto Banking Safe?

Are crypto banking services safe? Are they legitimate? These are only a few questions asked by many people before they even decide to buy, sell, and hold crypto assets.
Holding digital assets via crypto banks can be more secure than keeping other fiat currencies. Yet, investing in crypto can also be riskier than the latter.
Crypto services are NOT federally regulated and NOT FDIC-insured.
With such a lack of consistent regulation, your cryptocurrency holdings are at RISK of money laundering, theft, or fraud.
Digital currency is also extremely volatile since such assets are prone to high-swinging prices. In this case, it can be said that the crypto market is HIGHLY VULNERABLE and UNSTABLE.
Investors may also not know how to deal with digital currency, especially since it's a new game to play.
But, despite these volatilities, crypto banks still see to it that investing in digital currency can still give a sense of security to investors.
To ensure this, they follow guidelines to mitigate fraud risks, such as Know Your Customer (KYC) and Anti-Money Laundering.
Clients also have the option to secure their crypto bank accounts through a cold wallet or hardware storage.
This way, they can manage cryptocurrency offline and keep it away from other people who can take advantage of it through internet connectivity.
PRO TIP: Don't add funds to your crypto bank accounts that are more than what you can afford to lose. Transactions involving digital money are irreversible, and you can never get your money back in case of a crypto crash.
The Benefits of Crypto Banking

There are many reasons why we should consider investing in crypto banks. It can be beneficial for your business transactions and even personal affairs.
A few of these reasons could include the following:
Independent - Crypto banks allow their clients to sell crypto, buy crypto, and trade crypto whenever they want. They can also act independently in managing the financial products they invest in, giving them full control over their assets.
Minimum withdrawal and monthly fees - Traditional banking services require you to pay around 3% to withdraw fiat currency from your debit card. But with crypto banking, clients are charged at least 0.01% for their transaction regardless of the amount of bitcoin cash they withdraw. While you are required to make monthly payments for maintenance, many crypto banks in the market offer low fees for their investors.
High return rate - If you open savings accounts for crypto banking and your bank account is recognized as high-yielding, you can earn interest rates higher than what you can get in traditional transactions.
Currency exchange - Crypto banking allows investors to make currency exchange transactions between different currencies while charging commission fees as low as 0.1%. Investors can even make peer-to-peer payments or exchange currencies free of charge.
Versatile - There's no need for investors to maintain high credit scores to be granted loans in crypto banking. They can simply get secured loans and access other financial products and services without undergoing credit checks.
The Risks of Crypto Banking

Before you jump right ahead and open your own crypto bank account, you must understand that such transactions are still risky.
Whether you plan to sell crypto, buy crypto, or engage in crypto exchange, there is still a likelihood of pitfalls when dealing with digital currencies.
Lack of FDIC insurance and regulations - As mentioned previously, crypto banking is not FDIC-insured, and it's not regulated by the federal government. This means that when the company you buy, sell, or trade cryptocurrencies with fails, there is no way for you to get the lost assets back. Additionally, it will be more difficult for you to press charges once nuances on your account start showing up.
Market volatility - We also discussed that assets, like Bitcoin and Ethereum, are prone to high price swings or fluctuations. This means that it is not going to be a stable investment, as prices can plummet as much as they skyrocket.
Irreversible transaction - Once an exchange or payment via crypto is made, they are already irreversible. This is especially true for platforms that utilize blockchain technology that aims to create a secure, public, and uneditable registry of transactions. So, once your transaction is completed, there's no way for you to call someone in the finance division or any department in regular banks to get a refund.
Online system - The availability of a desktop or mobile application to manage your crypto wallet is not always good. This may increase the risk of scams, theft, and other fraudulent activities.
How to Choose the Best Crypto Bank Account for You

Now that you already know the pros and cons of crypto, are you still willing to spend cash to invest in Bitcoin and other digital assets?
If your answer is a BIG YES, let us give you tips on choosing the best crypto bank to set up your crypto credit or savings account.
Before you start to exchange, buy, and sell cryptocurrencies with a bank, keep these in mind first:
#1 Interest Rates
One way to earn money in crypto banking, aside from selling and buying crypto, is through earning interest.
Hence, you must look for banks that offer high-interest rates for your savings accounts.
There are companies offering at least 7% interest for Bitcoin, Ethereum, and other major cryptocurrencies.
Additionally, you may need to borrow from the bank to finance your crypto account.
In this sense, you should consider transacting with banks where you can be charged a minimum amount for every crypto asset borrowed.
#2 Trading Tools
You must also consider the leverages you can earn from the bank, the variation of cryptocurrencies available (Bitcoin, Ethereum, Tether, Binance, etc.), and trading venues.
Some features that investors like to utilize in their transactions are margin trading and auto-matching.
If you're a beginner, we suggest you look for platforms offering intuitive tools and educational materials to help you with your trading decisions.
Another thing to consider is the payment methods used in the platform, especially when making deposits and withdrawals. Consider those that support popular methods like PayPal and a debit card.
#3 Crypto Wallet Features
It's essential that you ensure the SECURITY of your crypto wallet.
It must contain features that protect your credit or savings account from hackers, such as a private key or two-factor authentication.
You must also look at whether you can exchange and transact directly through the wallet and the availability of an online payment system.
#4 Partnerships
Engaging with a bank with well-known companies as their investors would mean that they are credible and trustworthy.
This also widens the scope of cryptocurrencies available, support, security, and other vital aspects that constitutes a reliable crypto bank.
#5 Community
A cryptocurrency bank with an engaging community would mean that many clients trust the company.
It also means that they are taking their clients' concerns and suggestions into account, especially when making iterations in the platform.
The community can also serve as your support system to teach you about Bitcoin, finance, and the ins and outs of the bank.
What Are the Best Crypto Banks?
You can consider many cryptocurrency banks when setting up your account and start investing in Bitcoin, Ethereum, Binance, and other digital assets.
But for us, these are the 5 best platforms that are worth putting your cash in:
1) Kraken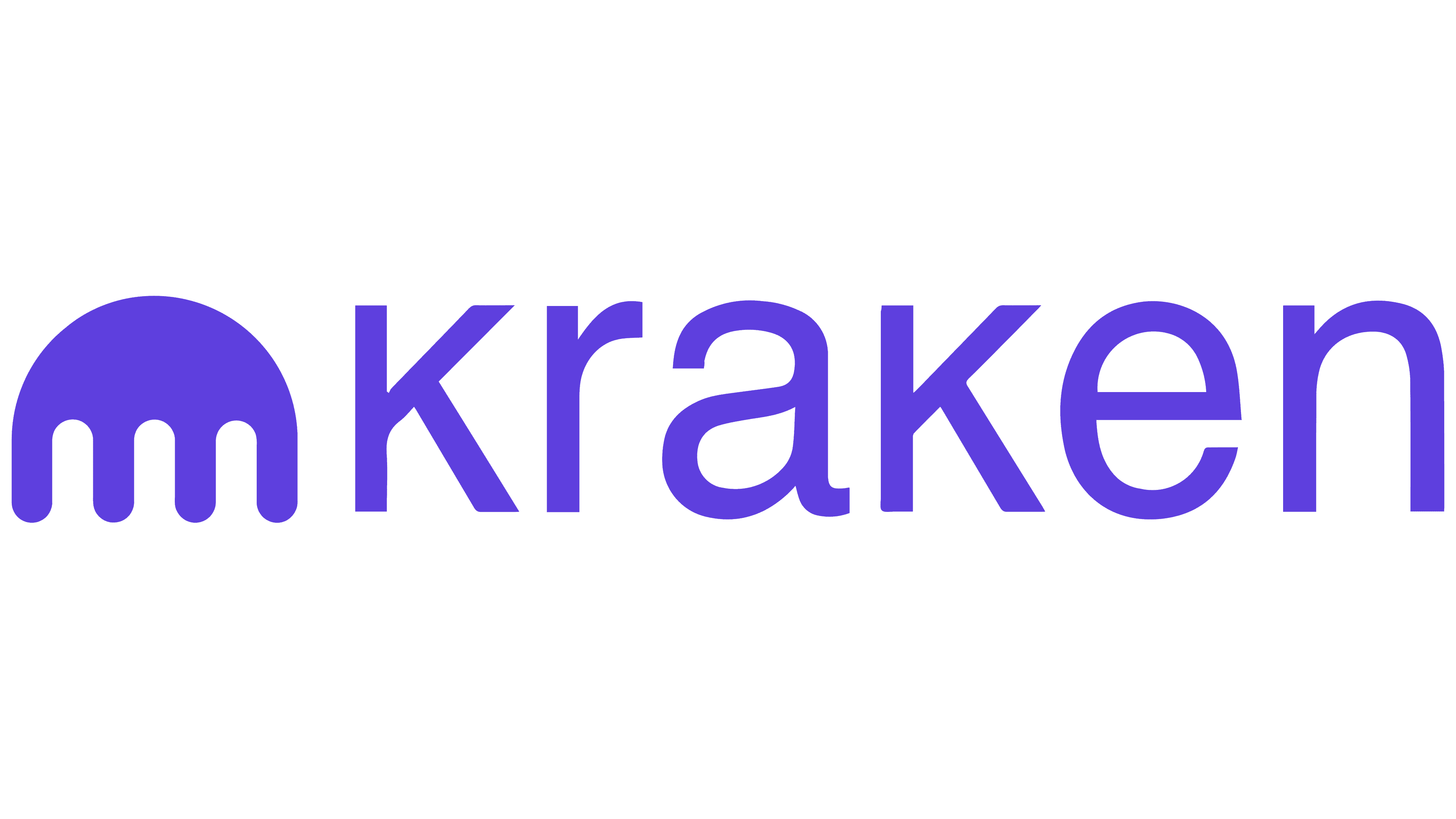 Kraken is becoming a Wyoming-based crypto bank in the USA.
The platform is reliable, as it has never been hacked in its nine-year history.
Kraken offer safe coin storage, with 95% of deposits held offline in cold storage units spread across the world, but it also promises platform security.
2) Coinbase

If you're looking for a place to exchange crypto while having FDIC insurance, Coinbase is the platform to consider.
Coinbase is considered one of the LARGEST and best crypto exchanges internationally, specifically regarding account owners and trading volume.
Aside from being able to buy, sell, and hold crypto reliably, it also allows clients to deposit and withdraw fiat money, including British pounds, Euros, US dollars, and other currencies.
If your account holds a USD balance, your money is also protected by FDIC.
3) MoneyLion Crypto

MoneyLion Crypto allows its clients to buy, hold, and sell crypto like Bitcoin, Ethereum, and Litecoin. The best part is you can make transactions 24/7.
Other features to love about this are Auto Invest and Round Ups. You can simply set this up to make scheduled purchases and set aside your spare change to purchase crypto assets.
4) Exodus

Exodus is more of a wallet than a bank. This allows you to hold multiple types of cryptocurrencies, including Bitcoin, in one place.
Aside from this, you can also sell and exchange crypto with other accounts. Plus, you can link your account to a hardware Trezor wallet to ensure it's safe.
When you want to venture into decentralized finance platforms, the Exodus wallet can provide seamless linkage between the two.
5) Nexo

Another intuitively-designed crypto wallet application is Nexo. It's a good alternative to a bank, especially if you aim to earn interest from performing a crypto exchange.
It also has a built-in crypto exchange feature, allowing you to buy, sell, and exchange Bitcoin and 75 other crypto coins and fiat.
Besides this, you can also leverage crypto-backed loans with 0% to 19% interest rates (depending on loan tier).
Frequently Asked Questions
Putting your money on Bitcoin and other cryptocurrencies can be quite a dilemma, especially if you're new to the game.
So, if you have more questions in mind, we'll answer a few more questions:
Is It Better to Keep Money in Crypto or a Bank?
Keeping money in a crypto bank and a regular bank are OPPOSITES, especially when it concerns risks and benefits.
If you're a risk taker and you wish to leverage on high-interest rates, increased earnings, and fast cash, Bitcoin and other cryptocurrencies are a far better option.
But if you don't like taking risks and want to take things slowly and surely, a traditional bank account is something you must stick with. Your finances are more secure, insured, and stable in this sense.
NOTE: Investments in Bitcoin, Ethereum, and other digital currencies are not regulated and insured. You might lose a lot of money if you don't invest effectively.
Can I Cash Out My Crypto to My Bank Account?
Yes, there are certain platforms that allow you to transfer your assets to a bank of your choice directly.
Yet, there are instances where you need to sell your assets, like Bitcoin and Ethereum, in exchange for cash first before you can transfer the funds.
This is largely case-to-case, depending on the bank or platform you engage with.
Do I Need a Bank Account for Crypto?
If the platform you transact with requires you to buy and sell Bitcoin and other currencies through a regular bank, then a bank account is NECESSARY to complete the transaction.
But there are certain platforms that allow its clients to transact using other online payment methods.
Final Thoughts
Cryptocurrency banking has its fair share of pros and cons. While you can earn a lot with cryptocurrencies, there are still RISKS that you must look out for.
But even if there are security concerns regarding this form of banking, companies and platforms still find ways to keep the transactions safe and secure.
If you think you're ready for the gamble, try cryptocurrency banking today!
But make sure to engage with legitimate platforms and don't deposit an amount more than what you can afford to lose.
You can find more information on our webpage. If interested in our services, contact us or write directly to hello@comistar.com.