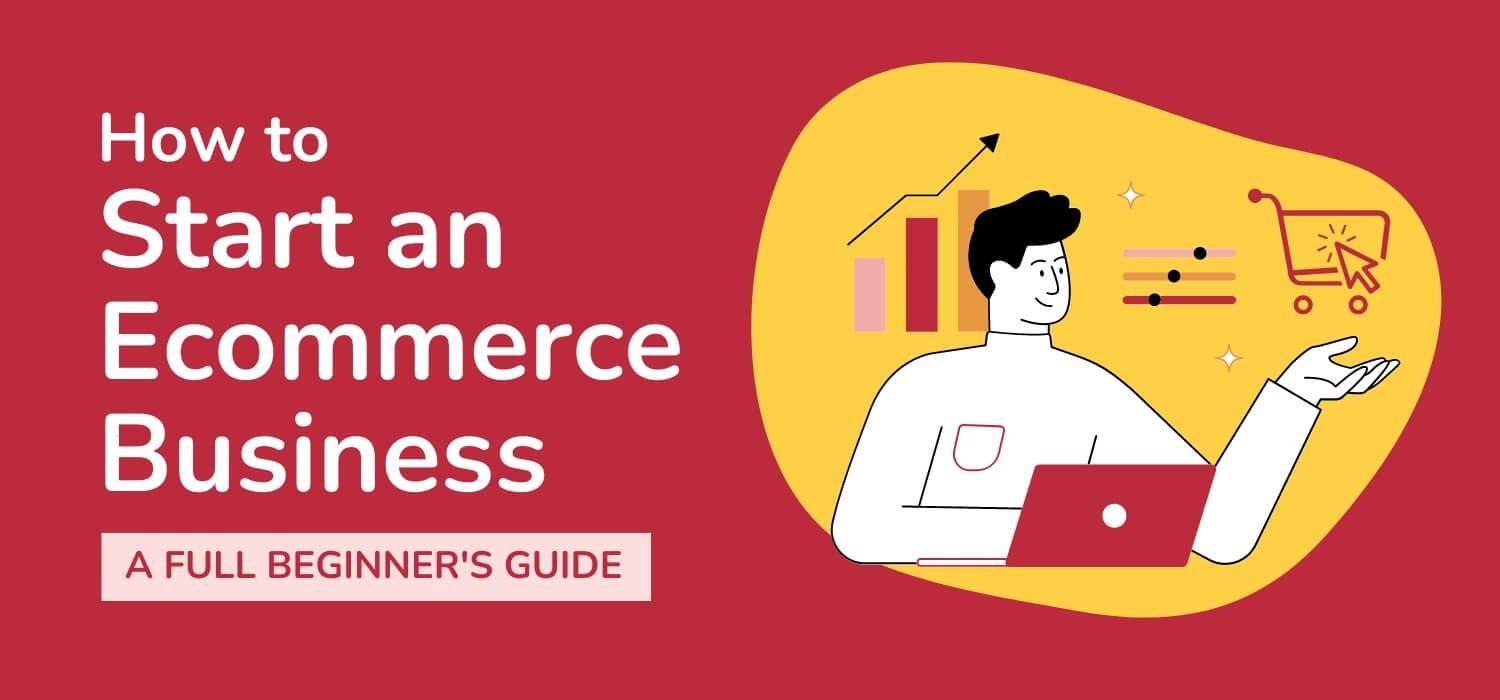 How to Start an Ecommerce Business: A Full Beginner's Guide
The eCommerce industry is one thrilling route to success, and the internet makes this ambition more reachable than ever.
Nevertheless, it might be challenging to understand how to start an eCommerce business that would succeed enough to make money.
With a solid strategy and some effective marketing tools, you can quickly establish your own brand and launch your e-commerce venture.
This full guide offers a clear and direct approach to how to start an eCommerce business, e-commerce marketing, and other helpful tips.
How to Start an E-Commerce Business: What Should You Do?
While starting your new business with many great ideas is nice, we advise setting your aspirations aside and concentrating on the most doable tasks first.
To begin with, you need a direct online sales channel for your goods. For this, a short store template on a reliable e-commerce platform like Shopify works well.
The secret is to start immediately and consider how to use e-commerce marketing to drive sales. Eventually, this will give rise to chances to enhance other items along the route.
These aspects are likely to spring to mind when asked how to start an eCommerce business:
Exceptional website design
Superior client service
A top-notch product image
Special selling point
To succeed, you must offer TOP-NOTCH customer service. If you want new customers to buy from you, your website must also be appealing and reliable.
However, a mix of these factors creates a successful eCommerce business. These elements determine whether an eCommerce store scores 1 or 10, not 0 or 1.
First-time business owners frequently lose sight of the most crucial details and spend days creating the ideal eCommerce store to shut it down after a month.
Sales are what power your own eCommerce store. Thus your own eCommerce business plan should center around them.
E-commerce marketing initiatives that increase store traffic result in sales, and sales increase store traffic.
Similarly, it would be best to generate revenue to offer excellent customer service to customers who purchase on your website and to choose your brand's distinctive voice.
If you can't generate e-commerce revenue, you've already failed before you've even begun.
TIP: The greatest method to avoid making assumptions about your audience that can hurt you rather than benefit you is to experiment.
1. Decide on a Niche

You must identify the ideal niche to launch a profitable business. Start by doing market research once you decide what business you'll be operating.
What specialty do you have?
What talent or knowledge would be in demand?
What market niche do those skills fit?
What kinds of goods are you looking to sell?
You can gain insight by looking at other businesses and see what they're doing correctly or wrong.
When examining an illustration of an especially successful eCommerce business in your sector, consider the following:
How do they connect with customers?
What about their website appeals to you?
What is their method of operation?
When determining your specialty, you'll need to provide answers to certain practical questions like:
Do you offer a physical or digital product? Decide on the products you want to sell.
How will you obtain the product if it is a digital one?
Can you manage production on your own, or will you want assistance?
Will your eCommerce company be based on subscriptions, bundles, or past orders?
Since the e-commerce market has grown so quickly, you should gather as many eCommerce company ideas as possible because there is a lot of competition.
Only then can you figure out what will make your own eCommerce business UNIQUE. Profit from your expertise if it is highly sought after.
Make sure your products in your eCommerce store is within your expertise!
TIP: Some of the most lucrative yet successful e-commerce business concepts are: goods for health and beauty, selling used merchandise, smartwatches, products for smart homes, online courses for learning, e-book sales, writing content, games, and toys for kids.
2. Look Into the Business Models for E-commerce

Starting your research is an important step. Don't act on an intuitive feeling!
Not every business model is successful for every client. Software, sales of digital products, physical products, and service-based businesses are just a few examples.
Before deciding what to sell online, you must comprehend the many eCommerce business models.
It's not complicated, but it affects your e-commerce business setup. Let's quickly review each of them.
Dropshipping
The dropshipping business concept is the simplest approach to launching an e-commerce store.
Dropshippers collaborate with producers and fulfillment facilities to store, pack, and ship goods on their behalf.
Due to this, business owners can operate their enterprises with minimal risk and initial outlay.
It is an excellent eCommerce business model for new online business owners because it is straightforward and takes minimal capital.
You don't have to leave your job to launch a profitable eCommerce store; you can manage your dropshipping business in your spare time. It's that easy!
Dropshipping or print-on-demand are wise options to make money without changing your goods or making a significant initial investment.
Wholesale Retail
Although the wholesale business model and dropshipping are similar, some significant variations exist.
Wholesalers purchase goods in bulk at a reduced cost from manufacturers and then resell them online for retail pricing.
This eCommerce business model is fantastic for business owners who want to create their brand and have MORE CONTROL over their goods.
You are in charge of producing, packaging and shipping your goods. The catch is it takes more time and work than drop shipping.
Private/White Label
Private labeling is an eCommerce business model that involves having things especially made for your e-commerce business.
It involves a LARGE upfront expenditure, unlike dropshipping or wholesale.
You'll need to buy merchandise in large quantities, and you could have to pay for storage space for your goods at a warehouse.
Meanwhile, White Label refers to buying a product "as is."
Only the solution's exterior, or visible components, can be altered. The fundamental components of the solution cannot be altered.
A white-label solution's vendor typically outlines what and how they deliver. They also establish the requirements for the services.
Amazon Selling
Selling on your website is very different from the Amazon business strategy. You sell products with other independent merchants when you sell products on Amazon.
You must register as a seller on Amazon and add your products to the catalog before you can begin selling.
Amazon charges extra fees for services like shipping and storage in addition to taking a commission from each sale.
However, building a brand on a marketplace website like Amazon or eBay is difficult.
Instead, you can sell products on your website or start an eCommerce business to establish your bra.d.
3. Verify Your Product and Target Market

You might be tempted to start looking for things to offer now that you've determined your niche and company strategy.
Do not get ahead of yourself!
You should consider your market before product ideas. You can't expect someone to buy your goods if you don't know who you're selling to.
Entrepreneurs might reach a wider audience with e-commerce because they aren't limited to a local customer base.
Your second sale is another thing you should consider. It is challenging to win over new customers, but once you do, you must work to increase their lifetime value.
Your marketing gets ten times easier when you pair a terrific product with a thirsty market.
Utilizing Facebook for Market Analysis
Thankfully, Facebook makes it rather simple to locate your audience online. You can drill down to receive precise statistics and comprehensive demographics.
You might find the phrase "targetable target audience" amusing, yet most business owners have no idea how many people make up their audience online.
You cannot grow a profitable business if just 100k persons are in your market.
Come up with product ideas once you've determined the image you want to convey and TO WHOM you want to convey that image.
We advise beginning with one because you'll spend less money upfront, and you can use affiliate marketing to test the waters if you want to offer more.
You can think about creating your brand of the item in case it catches fire.
You CANNOT AVOID conducting product research.
Purchasing Goods
If you decide to go the actual product route, you must look into manufacturers and identify a trustworthy provider.
For example, since Alibaba is the biggest online market in the world for sourcing goods, we highly suggest it to you.
Almost anything can be found here, and if you have an idea for a product but don't know how to produce it, chances are someone on Alibaba does.
Check the client feedback and shipment times of potential manufacturers and suppliers. Be sure to thoroughly assess the merchandise before making a purchase.
You need to carefully test it and familiarize yourself with the goods so you can see any potential issues and create customer service scripts to address typical queries.
Determining the VIABILITY of your idea is a necessary step in its validation.
Can you find vendors willing to match your prices? Does your supplier have a backup plan in case something goes wrong?
4. Completely Investigate Your Rivals and Create an Ecommerce Business Plan

You have identified your product, assessed its viability, and located a supplier.
But before you do that, you must properly investigate your rivals to understand who you're up against and how to set your e-commerce business apart from theirs.
The moment has come to draft your business plan now that your competitive analysis is complete.
This business plan is a road map to organize your product ideas and thoughts. It's essential for choosing what to focus on and how to contact potential customers efficiently.
Furthermore, your business plan also emphasizes your organization's mission statement to demonstrate to employees and investors the core principles of your brand.
5. Create an Online Store, Pick a Business Name, and a Logo

This step is where you will start forming your business' identity. It's always fun coming up with a business name and logo!
In addition to locating a genuine product to sell online, another difficult choice is deciding on your company or business name and picking an appropriate and accessible domain name.
Once you have a name and have registered the corresponding domain, create a straightforward yet memorable logo.
Furthermore, to effectively arrange your website and pages for Google and other search engines, you should first understand the fundamentals of search engine optimization.
Utilizing search engine optimization will help drive traffic to your store from anywhere.
Many excellent possibilities can support and complement your self-hosted business, but the best combination of sales channels will depend on your products and market.
6. Register Your Online Business

Your brand must reflect your persona to launch a successful business. Establishing your character makes it simpler to create an online store.
For example, avoid using girly colors and pictures when promoting your items to corporate businesswomen interested in living sustainably.
There are some fundamental procedures you'll need to follow before you set up your store and begin the intricate process of developing a brand.
Business Registration
Select a company name, then register your firm. We suggest incorporating a LLC (Limited Liability Company) - osaühing or OÜ in Estonia.
Don't forgo incorporation because there are legal safeguards and fiscal advantages.
Get the Necessary Business Licenses
Suppose you are not familiar with this process.
Actively seek out mentors since their guidance can be invaluable, even for simple tasks like obtaining business licenses.
Finding a mentor to help you will be among the wisest moves ever.
Obtain Your Employer Identification Number
Even if you don't intend to hire employees, you'll need an Employer Identification Number (EIN) to open a company bank account and submit your taxes.
Your EIN/TIN is similar to the social security number for your company in that it's a special number that lets you identify your company and file necessary paperwork.
Although not all organizations require one, having an EIN/TIN can aid in keeping your personal and business finances distinct.
Fill Out a Business License and Permit Application
You may still require some company licenses and permits even if you run an online store.
Before you start doing business, find out what kind of sales tax or home business licenses you require from your city, county, and state and get them approved.
If you're operating your e-commerce firm exclusively from home, you won't require the same permits as a brick-and-mortar store.
GOOD TO KNOW: A brick-and-mortar business refers to a company's physical location for in-person sales. In an omnichannel retail strategy known as "click and mortar," a company sells its online and offline products.
7. Complete Your Ecommerce Business Plan

By this point, you need to see how your business will run. Your market, product category, and brand name are all well-established.
Step back, draft your business plan, and determine your monthly expenses, beginning costs, and borrowing needs.
Financial Administration
The financial component of a firm is the most crucial. Determine your break-even point regarding unit sales and time (in months).
After all, the job of a CEO is to take resources and make a profit.
However, seeing how few business owners plan their revenue and expenses is saddening. You won't succeed if you can't calculate your profit margin.
You should discuss details regarding your employees, product sourcing, logistics, and marketing costs throughout the business planning process.
Ensure you know all the financial resources you have at your disposal. Even if you hire a professional to handle your books, master the fundamentals of accounting and bookkeeping.
Management & Fulfillment of Inventory
A lot of business owners avoid online physical goods sales. You don't have to keep goods in your garage to sell online.
To manage your inventory, you can use fulfillment centers.
For example, eCommerce businesses like ShipBob will keep your inventory while transporting goods out of their warehouse.
You'll need insurance once you've got a lot of assets locked up in inventory.
Software for inventory management will keep your company organized, especially if you have a huge amount of inventory.
When you first begin, keep things basic. Purchases can be made directly from the manufacturer and delivered to the fulfillment facility.
Before you establish your store, make sure the logistics are worked out. Even if you are dropshipping, you still need to be aware of the source of your goods.
Also, no eCommerce business can prosper without a sound marketing strategy, so ensure one is in place.
8. Payment Service Providers

Accepting credit and debit card payments or non-cash payments has never been simpler.
Cash was used in 19% of consumer transactions in the US in 2022. Since you're starting an online store, money isn't even a consideration.
The card still reigns supreme online, but alternative payment methods like ApplePay, Venmo, and others are starting to gain ground.
However, since 86% of transactions are made using one of the two types of cards, these are not essential for success the way accepting a credit or debit card is.
Another part of a company greatly facilitated by technology is accepting card payments.
Accepting a credit card back when all businesses were brick-and-mortar stores required a protracted application process with a payment processor.
Accepting credit cards is simpler and less expensive than ever, and signing up for payment gateways, essentially online processors, is much quicker but not painless.
The decision of which company to work with may be the most difficult step in the setup process.
9. Launch Your Company

Once your firm has been established, you can start tracking your metrics and key performance indicators (KPIs) as it expands.
While many new business owners should think about selling their tangible goods in person, the other aspects of digital marketing rely on generating qualified leads.
Now that you're well on your way, you've probably made a few dollars. It's time to spend seriously on your store's promotion.
The pieces that follow will assist you in focusing on your best e-commerce marketing tools (such as SEO, social media marketing, and email marketing) or expanding into new ones to increase traffic and sales.
10. Increasing Sales With Third-Party Apps

There is no shortage of third-party apps you may interface with to reach a larger audience, from delivery services to loyalty programs.
Your internet store is up and running, your marketing efforts are in full force, and you are beginning to generate sales.
First, your target audience is not only individuals in your immediate vicinity.
There are billions of people using the internet worldwide, and accessing your website is neither easier nor more difficult for them than it is for those in your neighborhood.
The second important point is that you have technology on your side. Numerous apps are available to work with and integrate with online shops to increase sales.
E-Commerce SEO
Although keyword stuffing is a thing of the past, SEO is still used today.
You must keep keywords and search terms in mind on every website page, your URLS, and your ad campaigns.
It would be best if you also considered increasing website traffic.
The top e-commerce sites make significant investments in internet promotion. If you lack the money, you better have the effort.
To stay on top of the digital marketing scene and receive your marketing advice, sign up for marketing newsletters or listen to podcasts.
Social Proof
Social proof in retail is when people feel more at ease purchasing because they see other people doing it.
It is essentially peer pressure in capitalist form.
If you are in a mall and see two stores selling clothing you like, you are more likely to check out the one with more people than the vacant one.
The same approach applies online, albeit it works a little differently.
Pop-up notifications can serve as social proof for an online store.
If you're looking at a particular item online, for example, a social proof app will show up a notice every time someone else buys that thing,
Seeing these communications at least reassures folks that you're for real and that other people are buying.
A serious FOMO, or the fear of missing out, can result from seeing several messages pop up while shopping online.
This makes people more likely to act impulsively for fear of missing out on a good deal.
Referrals, Rewards, and Loyalty
Make sure they return after spending time and money gaining new customers. And if they're happy enough to return, ensure they tell their friends about you.
There are several ways that contemporary loyalty apps can operate:
Virtual punch card: Buy X of an item, get one free; this arrangement is ideal for inexpensive, luxury things.
Points system: Earn points to receive benefits under the points system. Better suited to stores that specialize in higher-end goods.
Social posting: From a loyalty program, reward your consumers for checking in or sharing customer purchases.
Straightforward referral applications accompany these kinds of rewards.
With referral codes that point back to your consumers, you may give discounts at the time of purchase—or anytime.
Cross-Selling and Upselling
You can combine products that complement one another or locate updated/newer models of something with the correct integration.
Your store can offer suggestions when customers add something to their online shopping basket.
Like Amazon's "Customers Bought These Together" suggestion or a notification when a newer and better version is available, it may serve as a recommendation.
Social Integrations
Try experimenting with other marketing strategies, such as Instagram marketing or working with affiliate marketers.
Open up multiple avenues for sales by integrating your Facebook and Instagram accounts with your online business.
Every e-commerce platform has particular strengths.
The average item price on Instagram is the highest, but Facebook has a much wider audience and a more robust commerce infrastructure.
TIP: A third-party solution like Beacons is a great investment to make the most of Facebook and Instagram. In a nutshell, it's a platform for creators that provides a dashboard where you can track, schedule, and evaluate every social channel post.
Customer Support and Live Chat
In a physical store, clients can approach staff members who have the answers to their questions. However, with an internet store, customers are frequently left alone.
Email is useful for less urgent client needs but useless for closing deals. Although a phone call is more immediate, people find it more hassle to speak on the phone.
A live chat function gives an otherwise mechanical experience a human touch, which is beneficial in and of itself.
Knowing shoppers won't leave carts because they're unsure about anything is even better.
Selecting the Best Apps
As you might expect, you may integrate dozens, hundreds, or even thousands of apps with your store, and not simply to increase sales.
Finding the best app for you may take some time because not all apps are compatible with all e-commerce platforms.
As with anything else, you should research the software thoroughly. Verify whether you will obtain any support at all.
Some apps are free with only rudimentary support; others you have to pay for to get the full experience. Even then, there's no assurance you'll be able to get someone in to solve any issues.
Again, user reviews are a wonderful place to start to gauge the dependability and effectiveness of any service.
Installing anything that doesn't work and possibly interfering with the rest of your store is not something you want to do.
You can formally consider your internet store fully set up once you've discovered the best ones.
There will still be work to be done, so you can't just sit back and wait for the sales to come in—but at least you won't have to leave your home to do it.
Additional Sources of Information
We've also listed this shopping cart software for companies looking for more than just a mechanism to accept payments.
Shopify
BigCommerce
WooCommerce
Square Online
What Should You Do if Your Ecommerce Business Succeeds?

As soon as your store concept has been proven and you have a consistent flow of customers, make sure to continue to optimize your e-commerce operation.
Here are a few more ideas you might want to remember as you launch your online store.
1. Provide Excellent Customer Service
Customers may give up on an online purchase if their queries or concerns are not promptly resolved.
You must provide exceptional customer service for your organization to succeed in the long run.
Build customer trust by producing FAQs and self-service content, providing live chat assistance, encouraging product evaluations, and more.
All this will generate repeat consumers for your business who are five times less expensive to acquire than new ones and provide vital social evidence.
2. Pay Attention to Conversion Optimization
Not everyone will go to your eCommerce site and buy something. Can you imagine how much you would make if they did buy something?
Improve the consumer experience. Make time-limited offers.
Customers on your email list can be informed about new products, deals, and other services through email marketing.
You can frequently communicate with existing customers and website visitors via email marketing. Launch an email marketing for cart abandonment.
You can even put up a retargeting campaign. Try various marketing strategies to determine the most effective for your company.
3. Focus On Maximizing Your Stores
You don't want your buyers to inform their friends about a negative experience!
Optimizing your website is the next crucial step after setting up the framework for your eCommerce business.
Improve user-experience by making things easy and quick to use. Check how your store appears on mobile devices too.
Little refinements like these could increase customer retention and, in turn, your sales!
4. Regularly Update Your Inventory
Best-selling products tend to disappear rapidly; thus, inventory management is crucial. Always watch for fresh product concepts that keep customers coming to your shop.
Don't let a small number of products account for all of your sales.
Instead, provide new products to your current consumers and often test new concepts based on Google Trends.
How Much Does It Cost to Start Ecommerce Businesses?

A subscription and a theme for your store can be purchased for as little as 100€ to launch an eCommerce business.
eCommerce businesses are less expensive than physical stores because they don't need as many licenses and permissions and don't have to pay rent for a storefront.
For instance, starting a dropshipping business will probably be less expensive since you won't need to invest in inventory, raw materials, or labor costs.
Many eCommerce business owners launch their operations on a tight budget.
However, on average, new eCommerce business owners may spend roughly 40,000€ in upfront costs, which are recovered by profit margins and returned to the owner.
Here is a rough list of expenses you can expect to spend on:
Materials, stock, manufacturing of products, shipping costs
Labels and packaging
Operation costs, legal counsel, insurance, accounting
Site design, branding, hosting/domain
Staff, compensation, benefits, etc.
Marketing and advertising
Of course, 40,000€ isn't a fixed number. The cost will vary depending on several things, such as your eCommerce business model and industry factors.
Not only that; entrepreneurs have had to resort to funding from family and friends or loans to launch their own eCommerce businesses.
What Are Tips and Tricks to Know When Starting an Online Store?
An online eCommerce business startup is exciting. However, it is impossible not to make a mistake.
It is even possible to repeat the same mistakes even if this is your 10th online store. Keep the following advice in mind whether this is your first or tenth one:
Forget about first-year profits.
Recognize your target market.
Promote a hot product.
Try different marketing and advertising strategies.
Make outreach and link-building a priority.
Forget About First-Year Profits

Launching a successful e-commerce venture demands a marathon, not a sprint. Profitability in the first year of operation should not be used to gauge business success.
Give yourself a launch window of 18 to 24 months for your company.
Using the financial advice above, test, repeat, and reinvest your sales into your company over the first year.
Recognize Your Target Market

You can create the best product in the world, but what good is it if you have no one to sell it to?
You'll spend most of your time attracting customers rather than creating or acquiring things.
The difficulty? You want to put your goods before the potential customers most likely to purchase from your website.
These individuals, often known as your target audience, can help you reach them more quickly and increase your sales.
Promote a Hot Product

Create or market a fantastic product that has a sizable market. You'll see that the top retailers of today—Allbirds, Tushy, and Bombas—all sell high-quality goods.
A good product sells itself; thus product quality is essential.
The "next big thing" isn't necessary for new products; you only need to look for growth trends and markets where customers are underserved.
Once you figure out what to sell, enter the market with a superior offering and satisfy their desires!
You can look for market demand in two places:
Google Trends, a resource for researching popular search terms
Trends.co, which forecasts trends and business opportunities before they become popular, leverages data.
Try Different Marketing and Advertising Strategies

Don't be hesitant to market to your customer base using various media. After launch, spreading the news about your new company is critical.
It would be best to experiment with various marketing techniques to learn where your audience congregates and how they react to your material most effectively.
Test several strategies for online marketing, such as:
Affiliate promotion
Advertisements on Instagram
Pop-ups on websites
Cross-sells and upsells at the checkout
Organic results
Content promotion
Loyalty initiatives
Success depends on your capacity to experiment, test, and analyze your ad and marketing strategy.
Experimenting and playing around with what works is a good method to avoid making assumptions about your audience that can hurt.
Use the data you get to develop more profitable campaigns by being open to getting things completely wrong, especially when you're just starting.
Additionally, you can assist in defining the features of your website by refining your advertising efforts and gathering data on how your target audience interacts with them.
Make Outreach and Link-Building a Priority

A strategy for outreach and link-building is another piece of advice for new e-commerce sites. These strategies can improve your Google SEO rankings.
The sooner you have an approach to link-building and driving authority into your site, the sooner search engines will recognize your website as an authority in its niche.
Search engines view a link from an authority source as a vote of confidence towards your website.
The MORE links you have from trusted websites, the more search engines will TRUST you as an authority.
We advise brand-new online store owners and marketers to start with digital PR and link-building efforts early.
Starting early creates the conditions for long-term SEO success, enabling you to gain a higher Google ranking, increase organic traffic, and boost sales.
Search engines will recognize your website as an authority in its niche sooner if you have a strategy for link-building and driving authority into your site.
TIP: Your content and social marketing platforms should include a powerful reporting and analytics engine. You are merely squandering time and money if you are tracking your successes and failures or making use of every piece of audience data that is accessible.
Frequently Asked Questions (FAQs)
The following are some of the often-asked questions on how to start an eCommerce business:
Can You Start an Ecommerce Business With No Money?
Unfortunately, it's incredibly difficult (pretty much impossible) start any business, online or not, with no money.
You would need at least a few hundred euros to start an eCommerce business.
This is because it's a product-based business and demands that you create an online store, engage in marketing, and invest in expanding your brand identity.
However, you may launch an online store on a budget by using dropshipping as your company model, cost-free marketing avenues, and word-of-mouth marketing techniques.
To obtain the funds required to launch and develop your e-commerce firm, you can also consider funding options like Shopify Capital.
Is E-commerce Profitable?
Yes! E-commerce can indeed be quite successful as a business.
Businesses can profit from the expansion of the eCommerce sector by utilizing the correct approach and a well-executed plan to bring in a sizable amount of money and profit.
What sets businesses apart from eCommerce is website conversion optimization, competitive pricing, customer service, and digital marketing techniques.
Businesses could also take initiatives to cut expenses by automating tasks whenever possible and optimizing workflows.
Moreover, businesses can benefit from expanding the e-commerce market by taking these steps and creating a solid eCommerce strategy to become very successful.
Conclusion

Building your own e-commerce company is both exhilarating and difficult.
You'll pick up many facts on selecting a product, assessing its viability, deciding how to produce it, creating a website, and quickly marketing and selling products to new clients.
While the procedure sometimes feels like trying to solve a complex problem, it's satisfying nonetheless.
Everything you need to make this the year your store takes off is right at your fingertips, and we are pleased to support you along the way.
We hope that using the resources in this resource compilation will make your path more apparent. The best advice someone can ever provide is to get started and have fun!
If you have an idea and are ready to establish your e-commerce business in Estonia, feel free to contact us for our assistance!