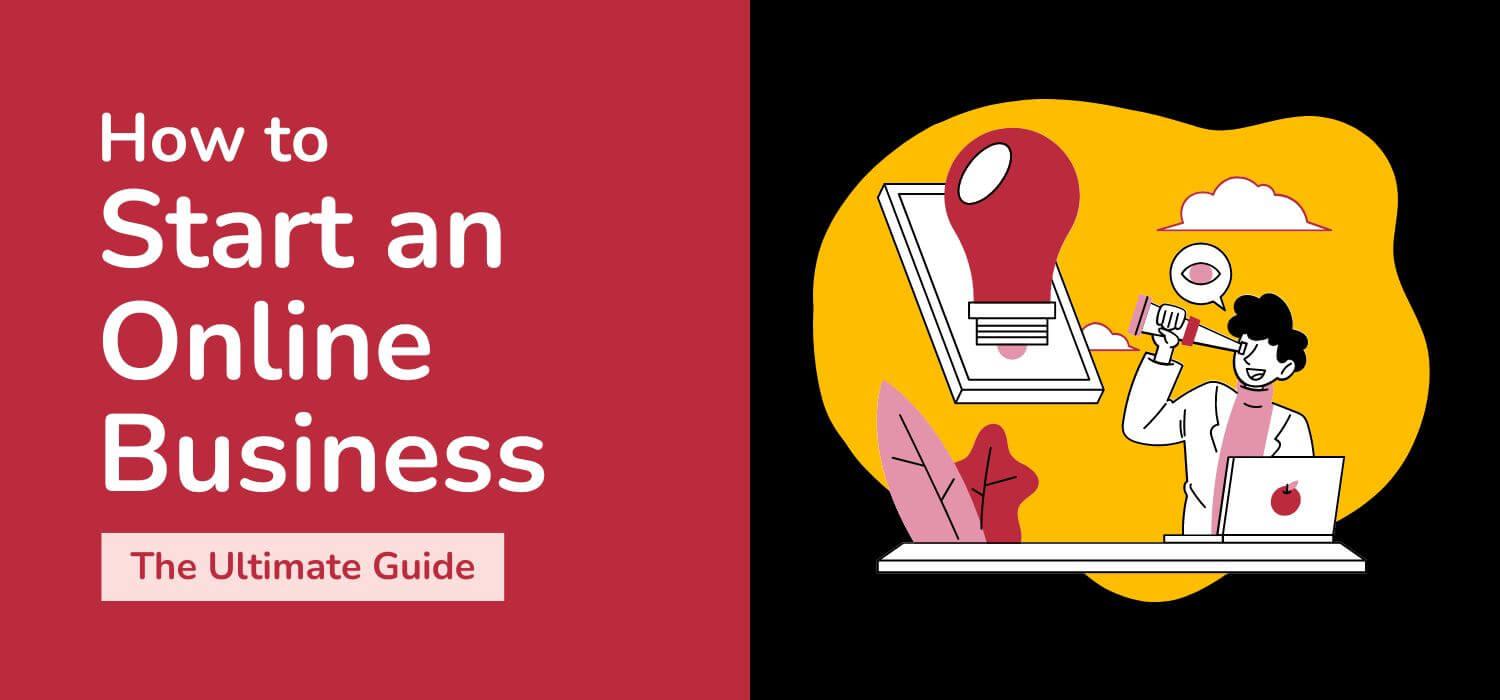 How to Start an Online Business: The Ultimate Guide
Do you want to make money online?
This seems feasible with the rapid growth of eCommerce, freelancing, and other online businesses!
Sure, a small business online is much easier to set up and will cost much less than a physical shop.
But there are still a lot of important matters to work on, like making a business plan and applying for business permits.
Fret not! Keep reading, and we'll show you a step-by-step guide on how to start an online business and make it PROFITABLE.
How to Start an Online Business - 10 Steps to Launch One
Starting an online business is fun and exciting! Picking out your brand name, connecting with people, and developing a marketing strategy can be exhilarating!
But there are also some serious matters involved when starting an online business, like filing for permits and taxes.
We'll discuss them all in detail below.
Step 1 - Discover Your Online Business Idea

Starting an online business, or any business that always starts with an IDEA!
Check out these strategies and questions you should ask yourself to begin your online business journey.
What Are You Good At?
Coming up with business ideas is not always about going for what is trending in the market.
Although it helps to coincide with the times, being rooted in what YOU know and what YOU love is still the best way to go.
Generate ideas by asking yourself the following questions:
What areas have I studied at university or college or taken an online course or workshop?
What areas have I had work experience in?
What do people ask me for advice?
What are my skills and talents?
What am I passionate about and interested in?
What do people compliment me about most?
It is also good to ask family, friends, and colleagues for unbiased opinions.
Find What to Sell Online
After brainstorming ideas for your own online business, the next step is determining what you want to offer, either products or services.
You can either sell your own products or the products of others.
These are tangible products you can sell on eCommerce sites and online marketplaces. You can create your products like crafts, jewelry, and fashion accessories.
You also have the option to source products from a wholesaler or opt for drop shipping.
Meanwhile, services are tasks you can perform for others for a fee.
You can either be a professional or have the knowledge or skill. For example, if you're good at graphic arts, you can offer to make content or posters for others.
Whether you studied it in school or learned it from Youtube or experience, it doesn't matter!
Usually, a portfolio and a few online reviews are great ways to build your clientele when offering services.
Whatever business idea you want to consider, make sure it has the following:
Great market viability - This means it has the potential to be profitable and successful for many years to come.
A competitive advantage - Your product or service should outperform your competitors too.
An active market – Are there people looking for what you are offering? Your product or service should fill the gap between supply and demand. It should be a solution to customers' needs.
Find a Niche
It is important to focus on a PROFITABLE niche for your business. This centralizes your efforts on one group of customers likely to purchase or avail of your service.
Research whether or not your product or service has a consistent demand or interest.
You can Google search on the fastest-growing industries in your country or use Google Trends to do this.
Step 2 - Conduct Market Research

Conducting market research allows you to validate whether your product will likely sell. As mentioned earlier, Google Trends is a good platform to measure this.
The first thing to do is decide on a business niche.
With some Google keyword searches, you can determine whether the trend for this niche is going upward. Opt for niches with high search volume.
You can also go on online forums on Facebook or read blog articles to understand customer buying behavior much better.
The information you will want to get out of your market research includes the following:
The need and demand for your product, service, or knowledge
The type of customers who want to buy what you are offering
The range of how much customers are willing to spend
Analyze Google's SERPs
SERPs refer to search engine results pages.
These are the pages and websites displayed by search engines like Google after typing in keywords on the search bar.
Analyzing top-ranking websites helps you position yourself to have the correct intent for what your business will offer.
You will need a proper understanding of SEO to comprehend this data.
Do a Keyword Search
This helps you comprehend the volume of research behind certain keywords and the amount of online competition.
SEMrush, Moz keyword explorer, and Ahrefs are popular tools you can use to do this.
Step 3 - Define Your Target Audience

Your target audience is a group of people who share the same characteristics or needs that your online business aims to cater to.
These are the people who are most likely going to be your customers!
Market research is a crucial step to getting here. Once you know where to position yourself, define your target market thoroughly by segmenting them based on demographics.
You should gather information about your audience:
Age:
How old is your audience?
What generation do they belong to?
Gender:
Is your audience predominantly male or female?
Is your audience gender-sensitive?
Income:
How much money does your audience make in a year?
What income class do they belong to?
How much are they willing to spend on your niche products?
Device Usage:
Where does your audience view products and services?
Do they use a desktop, mobile, or tablet?
How often does your audience consume data online?
Step 4 - Examine the Competition

Looking into the competition helps you get a bigger picture of your potential market.
You can collect important information about their website using free tools like SimilarWeb. You can gather data such as:
How much traffic their website brings
Where traffic is coming from (organic, paid, or social) 
The other niche-related competitors
The types of other niches people are interested in
Keywords used
From here on out, you can do a SWOT analysis of the competitor's data and use it to create your business strategy:
Products or services
Customer base
Pricing strategy
Marketing strategy
How they carry out business
We recommend the following tools:
Step 5 - Write a Business Plan

A business plan maps out all the details of your upcoming company.
It should state your products and services, goals, responsibilities, target market, and business strategy.
Business plans should also have crucial information on business structures, financial projections, legal documentation, and permits.
With selling online, there may be areas in a typical business plan that will be unnecessary, like information on leases.
Nonetheless, a credible business plan is useful for all stakeholders to see the BIGGER picture of how your business will run successfully and profit in the coming years.
It will help determine whether it is worth scaling up in the future.
And in case you need additional funding, a business plan also gives potential investors some confidence in your company.
Step 6 - Establish Your Legal Structure

Here comes the serious part of how to start an online business. Choosing a business model for your company is necessary to make your company legal.
There are three legal structures to choose from:
Sole Proprietorship
When your online store is registered as a sole trader, you run the business yourself.
Your income, liabilities, and losses are taxed on your personal income tax return. You will also be subjected to payroll and self-employment taxes on your profits.
Partnership
This business structure is where two or more people own the business and equally share the profits or losses.
Partnerships are easy to form, but every member also shares in the liabilities.
You can opt for a limited liability partnership to protect other partners from the actions of others in case the business doesn't work out.
Limited Liability Company (LLC)
A Limited Liability Company (LLC) known as osaühing or OÜ in Estonia is a type of business structure that combines sole proprietorship and partnership characteristics in a single business entity.
Money spent to start an LLC is much more than a sole proprietorship or partnership. LLC laws also vary by state but are generally more flexible.
Paying taxes on LLCs is much easier. The company registered as a separate entity is taxed, not the LLC's owners.
Step 7 - Decide on a Business Name and Register It

Picking a name is one of the more exciting parts of how to start an online business!
Choose a name that uniquely represents you and what you are offering. Make sure it is easily remembered.
The next step is to register your eCommerce business. Here are the 4 common ways to do so:
Trademark – A trademark protects your business name and logo so no other business in the industry can use it.
Entity name – This registration protects your business on a state level so that no other company can operate under the same name as yours.
Doing Business As (DBA) – There is no legal protection under a DBA. But in processing online payments, customers can confirm their payments go through the correct company.
Domain name – A domain name allows you to get the website address you want your business to be identified for.
Step 8 - File for Business Permits and Licenses

Many online businesses think it is okay to skip filing for business permits because of the absence of a physical store.
Whether you sell products online or in-store, all new businesses need to fulfill their obligations to the state.
Apply for Federal and State Tax ID Numbers
Every big or small business owner needs to apply for an Employer Identification Number (EIN)/Tax ID Number (TIN), which allows you to transact legally.
You can pay taxes, open business bank accounts, hire employees and apply for a business license.
Create a Business Bank Account
A business bank account gives you more legal protection against business risks. You also have better access to funding than just a personal bank account.
Consider Relevant Digital Regulations
An online business should be wary of customer privacy.
Comply with privacy laws such as the General Data Protection Regulation (GDPR).
Step 9 - Set Up a Funding Plan

Setting up capital right out of your pocket is not always easy. Small businesses need funding to return profits consistently.
For example, your online business might need extra funding to ship products or pay for online marketing efforts like Facebook ads.
Bootstrapping is one way to go! This is a way of asking for financial help from friends and family.
But if you seek additional funding in a more formal approach, here are your options:
Crowdfunding — Potential customers pitch your business idea in exchange for a perk like product samples or early access to your launch.
Accelerator — This involves competing against other small businesses seeking funding too. Those who win get the capital. This is also a good opportunity to network.
Small Business Loan — If you are qualified, you may be able to get a small business loan from a bank or lending company.
Seed — Seed financing requires you to offer shares of stocks to whoever invests in your online business. If you sell your business, investors will want their investment back.
Step 10 - Launch and Market Your Business Online

By now, your online business is almost ready to be presented to the world! Here's what you need to do to market and launch your products and services:
Build an Online Brand Identity
Your brand identity should convey the essence and values of your business. How do you wish your target audience to feel when interacting with your products and services?
Your brand identity should be cohesive and consistent from your business name, logo, color scheme, web design, typography, graphics, photos, product packaging, and collateral.
Create Your Social Media Presence
Social media marketing is the FASTEST way to engage with your target audience.
We recommend getting a YouTube channel and signing up for social media accounts like Instagram, Facebook, TikTok and Twitter.
But it doesn't end there!
It requires regular quality content to draw your target audience to your website and make a sale. Hiring a social media manager on your team might be the most effective solution.
Other ways to increase brand awareness and drive sales are paid advertising on these social media channels, influencer marketing, or directly reaching out to companies to pitch your business.
Launch a Professional Website
You will need to purchase a domain first. You can opt for the low-cost way to build a website on your own or hire a web developer.
The design is up to you, but you must keep your target market in mind.
Some eCommerce platforms like Shopify provide templates. This is an efficient way to set up your eCommerce website since shopping cart software is already built in.
Other features to prioritize are ease of navigation and making online payments. You want your customers to have the utmost convenience when shopping!
Create SEO-Friendly Content
Organic search results are great indicators of website traffic. But you cannot get good results without SEO-friendly content.
Improve your website's search engine optimization (SEO) to get a higher ranking on search engine results pages (SERPs).
Studying your competition helps you know which keywords are most profitable.
Utilize Email Marketing
Another way to promote your new business to your target market is through e-mail marketing.
With tools like Mailchimp, you can create email marketing campaigns tailored to your target audience.
Some information you can share through email can involve discount codes, special offers, and newsletters about your online store.
Collecting feedback through email helps build customer loyalty and satisfaction too.
Why Should You Start an Online Business?

Before you even think about the steps to start an online business, you should think about WHY you bother starting one in the first place.
Have you ever wondered what makes it different from a brick-and-mortar business instead?
For many small business owners, a physical store is much more demanding than one established online.
Find out the several advantages of making money online:
Less Capital Needed
Many want to start a new business idea but are discouraged by the huge investment required to set it up physically.
Consider EVERYTHING you have to budget, like leases, inventory purchases, office supplies, utilities, salaries, and more!
If the business goes south, you could be in deep financial trouble!
However, with a small online business, the things you need apart from the legal costs of establishing a business are a computer, domain name, and website, to name a few.
You can even learn the basics of web development and design your website to cut a few costs.
Launching an online business with just 100€ as starting capital is possible, meaning you don't need to risk your life savings away!
High-Profit Margins with Low Overhead Costs
Offering products and services online is a lucrative business. You get to benefit from higher profits due to the low business costs.
There are still expenses that need to be paid when operating an online business. The amount will vary depending on the type of business you are in.
However, they are very low.
Of course, that's because you don't need to spend on a retail space, office, furniture, and inventory!
And even if you decide to sell products, you can easily set up a low-cost website, open social media profiles for free, and adopt a drop shipping system.
Work Remotely
When managing an online store, you can be your own boss! You won't need to rely on a geographical location to operate your business.
Other online business model options like affiliate marketing and drop shipping allow you to operate comfortably from home since you don't need to stock inventory yourself.
You can run your business from anywhere if you have an internet connection. Talk about the work-life balance you can have! Count us in.
Great Potential for Scalability
Real estate costs and local demand are some of the limiting factors to a brick-and-mortar business' growth.
These issues do not exist in an online business arrangement.
The good thing about starting an online business is that when the time comes when you are ready to scale up, you need to switch to a better or bigger hosting plan for your website.
That's much cheaper and less complicated than opening another physical store!
Open 24/7
Another great advantage of an eCommerce store is that you can generate revenue even in your sleep! You don't need to be physically present to make a sale.
Selling products in online marketplaces can run 24/7.
Your selling platform is always available to make a sale! And unlike physical stores, online stores are unaffected by lockdowns and other movement restrictions.
Worldwide Market
With more and more people getting the hang of online shopping, your pool of potential customers EXPANDS daily!
Thanks to social media platforms and digital marketing tools, you can conveniently reach your target market and position your brand optimistically through online data analytics.
What Are Good Online Business Ideas You Can Use?

There are many online business structures you can consider and implement. Here are some examples:
Affiliate Marketing
Affiliate marketing is a business structure that requires you to sell other people's products and services online by promoting them on your website.
Being an effective influencer takes A LOT of hard work and research.
Often, it is a hit-or-miss opportunity, but if you get lucky on an affiliate program, it can bring you tons of money!
Product-based Online Businesses
Selling tangible products online is a growing business.
A lot of people, like artists, musicians, and writers, even get to sell their work online. For many, this paved the way for their professional and financial success.
However, you do have to consider having an online store and accounting software to manage.
eCommerce Business
The eCommerce business is also a product-based business that uses existing services like Shopify and other eCommerce stores and digital marketplaces to showcase their physical products.
Freelancing
The phonebook is dead.
Many service professionals find that customers reach out to them more conveniently through online channels, social media, and email.
The common skills in demand are advertising, writing, designing, and programming.
But there is NO LIMIT to the services you can offer online. You can even find services like dog walking, carpet cleaning, house-sitting, home gardening, and much more!
Membership Sites
Building a membership site is your online business if you are a credible coach or consultant who enjoys sharing knowledge and breeding motivation.
People pay for exclusivity. You can earn money through membership fees as they sign up to receive regular content, updates, and relevant information.
If you satisfy what customers want, they'll come back for more.
Informational Products
You can sell your expertise through ebooks, worksheets, templates, and online courses like membership sites.
Software as a Service (SaaS)
If you are a software engineer or programmer capable of developing software or applications, you can charge users for digital downloads and recurring subscription fees.
What Are Examples of a Successful Online Business?

Some examples of successful online business ideas these days include:
Teaching a language online
Online bookkeeping services
Fitness and nutrition consultations
Graphic design and other artistic commissions
Online courses or workshops for culinary arts, fashion, carpentry, painting, etc.
On an eCommerce site, you can sell:
Fashion, clothing, and accessories
Crafts
Collectibles and trinkets
Home Essentials
Gadgets and technology
Frequently Asked Questions (FAQs)
We've got you covered with more information on how to start an online business! Check out these FAQs.
Where Did Online Businesses Originate?
Many think the eCommerce industry started in the early 1990s during the world wide web boom.
But it already took shape way back in the late 1960s!
In 1969, two electrical engineering students from Ohio launched CompuServe, the first commercial online space in the US.
In 1979, Michael Aldrich of the UK used a transaction-processing computer and a doctored television to create the first secure data transmission, creating the foreground for online shopping.
In 1982, Boston Computer Exchange was launched and became the first online marketplace.
From entering the 1990s, we see exponential growth of eCommerce platforms and innovative payment systems.
Companies like Amazon and eBay lead the way as marketplaces. PayPal and Apple Pay made it much easier by introducing mobile payments and digital wallets.
Who Are Successful Online Business Owners You Can Take Inspiration From?
You can find thousands of successful online entrepreneurs on the web today!
But we take inspiration from these guys in particular because of their willingness to share their experiences and tips for the trade. Look them up yourselves:
Marie Forleo is a strong woman and online powerhouse for business wisdom. Oprah even dubbed her as one of the next generation's leaders.
She has her channel and blog, Marie TV, where she shares a variety of courses and educational materials on how to start an online business of your own.
Nathan Chan founded Foundr, a small digital entrepreneur magazine that has grown into a media empire!
Foundr offers courses, content, and podcast interviews that help you start and scale a profitable business.
We love that they cater to all forms of entrepreneurs too. Whether you're a newbie or a well-established entrepreneur, there is always something more to learn.
Can You Start an Online Business with No Money?
It is a common understanding in business that to generate revenue; you need to invest monetary and industry capital.
There will always be startup costs involved, although the amount will vary.
If you decide to DIY your business website creation and setup, you can kick-start your online business at a low cost.
Conclusion
Transforming your online business idea into a reality doesn't have to be overwhelming. But it also doesn't take overnight!
Don't be too hard on yourself when your own online business doesn't take off immediately.
Take it from the pros; surely, it took many failed opportunities to become the successful online entrepreneurs they are today.
Following this helpful guide, we hope you can quickly build your successful online business.
If you have an idea and are ready to establish your online business in Estonia, feel free to get in touch with us for assistance via our webpage or write directly to hello@comistar.com.