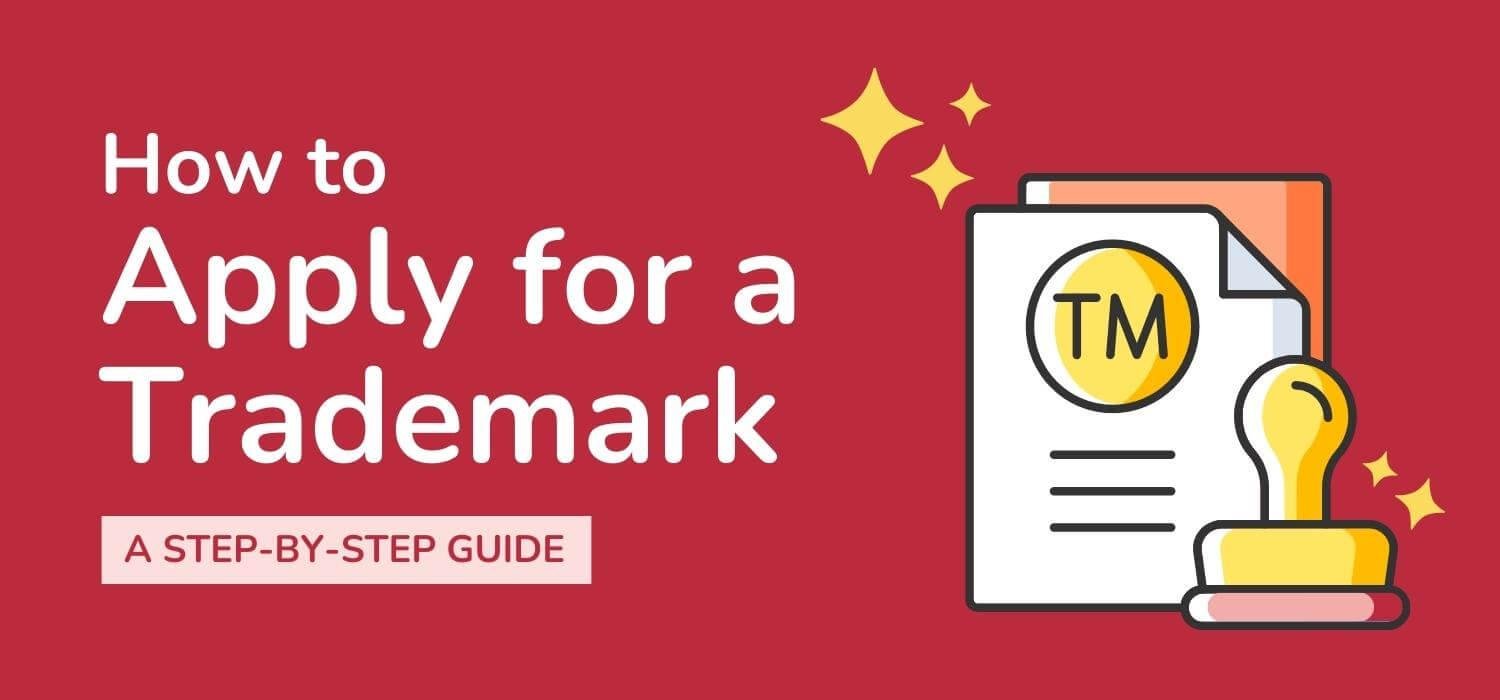 How to Apply for a Trademark: A Step-by-Step Guide
Trademark registration in the EU is one of the most important things EVERY business should do. Getting registered helps protect your business name and trademark.
People can set your business apart when you're registered!
Today, we will walk you through the different steps of the trademark application in the EU for your business! It's a straightforward method that's worth knowing and takes little time.
5 Steps to Apply for a Trademark
Applying for a trademark in the EU might seem like a daunting task. New business owners think the registration process requires professional help, but it hardly does!
All it takes is the right knowledge to successfully register a trademark for your business.
Step 1: Define Your Trademark

A trademark can cover pretty much anything under the sun, with a few exceptions, like pornographic images. Trademarks can for instance be registered for the following:
Colours
Logo
Name
Sounds
Slogan
You can fully protect your company's brand within various classes. 
The first thing to do, is to identify what you're trying to get registered. Will it be the whole symbol or just the text?
We suggest applying for a trademark on ALL categories you fall under to ensure full protection against unwarranted litigation.
At the same time, make sure to explore the EU register to get an example of a good trademark from other businesses.
Step 2: Explore the Trademark Register

The EU Intellectual Property Office (EUIPO) has a register of all the existing trademarks. Other countries have this, where they post an existing trademark.
Check the EU register if another company hasn't already registered your desired brand or symbol.
Many owners fail to check the trademark register before making their logos. They'll have to go back to the drawing board again before registering.
Step 3: Select Your Trademark Classification

The EU Intellectual Property Office has up to 45 different trademark classes. The trademark search tool can help you find under what classes your trademark falls.
Briefly, every trademark can fall under the classes of products, goods, or services.  Select all the trademark classes that apply.
Will it fall under chemical products or musical instruments? Make sure to check the additional class you might also fall under.
We highly suggest sitting down with your team and discussing under which classes the trademark should be.
Some fail to accomplish the additional class they fall under and risk their trademarks getting denied.
Step 4: Submit Your Trademark Application

The fourth step is usually the EASIEST yet the most crucial. You'll be asked to fill out a form.
Be sure to fill in all the details to increase your chances of getting registered. Some important information you need in registering includes the following:
Classification
Design
Examination type
If your application meets all the requirements, your application should move forward.
Step 5: Address Feedback If Needed

The most nerve-wracking part when you register a trademark is always waiting. It takes several days or weeks to hear back from the register. 
Your application will be published in the journal for people to view. Anyone can object your application for reasons like the following:
If it shares similar trademarks with other brands
If the marks are confusingly similar and would prejudice the first registrant
If the trademark being applied for contains anything contrary to public morals and decency
Hopefully, your trademark doesn't fall under any of these.
What Happens Next After You Finish Applying for a Trademark?

Once you're done applying, all you have to do is wait until your trademark gets approved. Within two weeks, you will receive a report telling you your mark is ready.
Once everything is done and the publication period has been complied with, you can finally use and enforce your trademark in the EU for up to ten years.
You have intellectual property over the trademarks you registered.
You can use the trademark over your goods or services or under the categories you filed it in.
You don't have to worry about any business reporting you because the trademark is for you to enjoy.
As the owner, you enjoy FULL and EXCLUSIVE rights over it.
In the event you notice unauthorised third persons using the trademark or trying to sell products under your name, you can bring legal action against them.
You can prohibit them from using your existing trademark or making confusingly similar trademarks.
What Is a Trademark?

A trademark consists of signs that help identify a particular brand. An easy way to think of trademarks is every brand you see around you, especially from fast food restaurants.
Having the licence to enjoy using a trademark is very important. It gives the business the right to enjoy the protection of the law and prohibit others from using the same.
Take the case of KFC, where no one can steal its slogan of Finger Licking Good. It's one of their trademarks that can't be used just by anyone.
At the same time, no one can use the famous M letter of Mcdonalds'. The shape, letter, and colour are all trademarked.
What Can You Trademark?
As we mentioned earlier, trademarks can cover everything. You should be all set as long you are the mark's owner and file it with the IPO.
Just be sure you pay the right fee, especially if your mark falls under more than one class. Trademarks could include any, or a combination, of the following:
Colours
Letters
Sounds
Website domain name
Words
In some circumstances, others would register a combination of all those trademarks. It is allowed, although the fees will be higher.
What Can You Not Trademark?
Although we've said anything can be trademarked, there are, of course, a few exceptions. We've listed things that cannot be trademarked, which you should watch out for:
Offensive to the senses and morals of the public
Misleading words or phrases
Generic brand name or logo that's commonly used by the public
Official government emblems or logos
Trademark already under a licence by a different owner
The reason why these aren't allowed is pretty straightforward.
They appeal to the public's senses and disregard the rules and norms established in the EU. You can get kicked off the Companies House register if you're not compliant.
What's the Difference Between Trademarks, Patents, and Copyright?

People often confuse the difference between a trademark, patent, and copyright. The three are intricately related because they follow the same principles.
To help you distinguish the three, we will discuss what each covers and give an example.
Trademark
Trademarks cover anything under the sun that can be used to distinguish one brand from another. Many companies trademark their brands so that no one can steal their identity.
It serves as a sign to the whole world they are the OWNER of a particular brand or logo. No one can take it from them while it's still active and registered.
A good example of a trademark is brands like Mcdonald's and KFC. No third person can use their name, word, or logo, or they'll face legal sanctions.
Patents
Patents are a technical concept because it involves the protection of a process. What is involved in registering with the IPO is the PROCESS that resulted in the invention.
A famous example is the case of Thomas Edison and his discovery of the lightbulb! An equally famous example is how the Google Page Rank came to life in 1997.
It could even be as simple as the creation of most chemical products today!
Copyright
Copyright is one of the most common and popular of the three. We see it around us, especially now that new forms of media and entertainment are appearing.
In general, copyright involves the protection of the author's original works. The work could take the form of music, books, and movies!
Some popular examples are the Harry Potter book series and the whole movie franchise!
Even the Happy Birthday song is copyright protected so no one can use it without the author's permission.
Trademark Registration Costs

There are several costs involved with registering a trademark.
At the outset, you need to know the costs to prepare for them. More importantly, it ensures you can complete your application at the best time possible.
We've listed the cost of registering a trademark worth knowing.
First Time Application
Whether it's your first, second, or third application, you still have to pay the corresponding fees. The average cost of registering a trademark is €196 if you apply online.
If you send your application via post, you'll have to spend €230, which is much more.
We recommend applying online rather than through the post. It's more affordable and a lot faster.
In the event you're still unsure about your trademark and don't want to spend the full price, we recommend going through the "Right Start" application.
We highly recommend first-time trademark applicants try this process. This option helps assess if your application complies with all the rules set by the IPO and only costs €115.
It's as if you're getting pre-approved to get a trademark.
If your Right Start application passes, you can pay an extra €115 to start the official application. You no longer have to worry if your trademark passes or not!
Keep in mind that the fees vary depending on the country. We've listed some of them here just to give you an overview:
United Kingdom: £170
France: €190
Germany: €300
Italy: €380
Spain: €125
Trademark Renewal
Trademark renewal usually takes place every ten years. This should give you enough time to pay for the necessary costs.
The typical renewal cost is €230 for one class.
If your existing trademark is registered in several classes, you'll need to pay an extra €58 for each additional class.
The cost also varies per country:
United Kingdom: £199
France: €240
Germany: €750
Italy: €67
Spain: €324
Note that this cost can change through the years. Keep track of the changes, especially when your renewal period is nearing.
Frequently Asked Questions
Before we leave with our parting words, we've answered some of the FAQs we usually get about trademark registration.
We're sure you'll find some helpful and make your application process easier and, more importantly, legally compliant.
Can You Register a Trademark for Free?
NO. You cannot register a trademark for free. This is one of the biggest red flags you must watch out for over third-party services.
There have been several instances where registrants are lured by these services.
If anyone claims and offers this, stay clear of them and report them. The IPO is transparent with the fees involved when you register a trademark.
Fair warning, getting your trademark registered without paying anything has serious consequences.
Your trademark might not have been registered at all! When this happens, nothing can protect your business from the unscrupulous use of others.
How Long Does It Take to Register a Trademark?
In the EU, it takes an average of three to four months to get your trademark registered.
It could vary depending on several factors, like if a dispute needs to be resolved and how long it takes for you to fix it.
If your trademark has no issues and all the information on the form is complete, your trademark should be up and running in no time.
The duration also varies depending on the country:
United Kingdom: 3 to 4 months
France: 4 to 6 months
Germany: 6 months
Italy: 10 to 15 months
Spain: 6 to 15 months
What If Someone Opposes Your Trademark Application?
Unfortunately, there may be instances when you can't register your trademark because of opposition from others.
The usual reason for opposing could be any of the following:
Confusing similarity of the trademark being registered with an existing one
The trademark contains offensive words or images
The EU IPO will immediately inform you of the details during the publication period or within two weeks.
One of the best tips we can give is to always talk to the person making the opposition.
You can get to the root of the problem and address any issues the filing might have surfaced. If unresolved, you can take action and leave it to the authorities to fix the issue.
However, the only problem with this solution is it tends to be costly. Not to mention, it may take many months before the court can decide on your case.
As a last resort, you can also consider withdrawing your application. There may be issues with your application that still needs to be sorted out.
Should You Pay for a Third-Party Trademark Registration Service?
You can always seek the services of a third-party registration service. Several businesses in the EU do this because they find it more convenient.
This is especially true for those under several classes and has many trademarks.
However, keep in mind that these services come with quite a cost. The service is quite pricey for some, which is one of the main reasons others DIY their application.
The registration process is fairly easy as long as you know the steps, requirements, and timeline!
The decision is up to you if you need the service.
Enlisting a third-party service and doing the application process comes with its pros and cons you need to consider.
Conclusion

Don't waste your logo and brand name; get it registered with the IPO immediately. You'll risk other companies registering the trademark first and having to start from scratch again!
If you want to successfully register a trademark, check back on this article. Remember, registering a trademark is easy as long as you know the proper steps.
You can also ask for professional advice on registering a trademark, especially if you have multiple businesses to deal with.
For more information and legal help, please contact us.