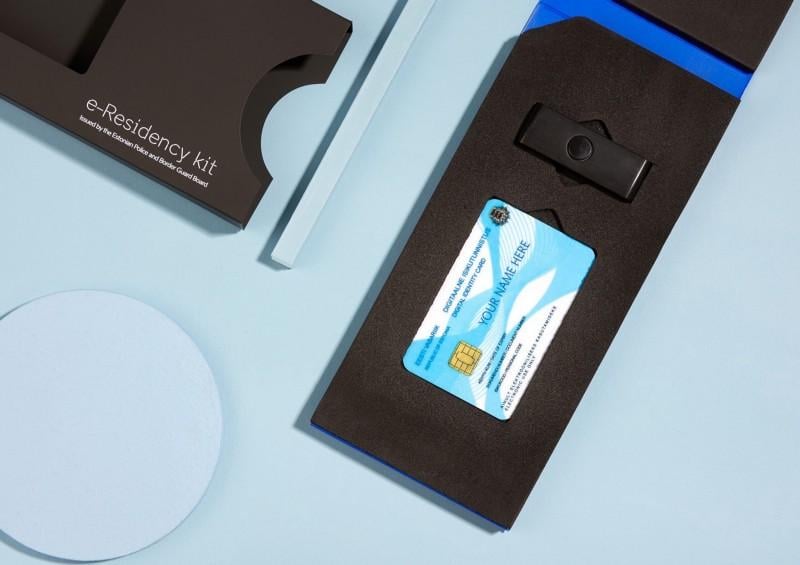 Guide: How To Sign Documents With Your e-Residency Card in 2021?
In this tutorial we're looking at how to sign documents with your e-residency card. It's very simple, but if you haven't done it before, then it's good to go through this 2-minute read.
Together with your e-residency card you'll receive an unique personal digital identification code, which is used to securely identify yourself over the internet. A personal identification code is a number with 11 digits. E-residency card enables using Estonian e-services, and one of them is registering the Estonian company.
With the e-Residency card you can access Estonian State Portal, Service Providers, Company Registration Portal, e-Business Register, e-Financials and e-Tax/e-Customs.
Step 1. Activate your digital ID-card.
Enter your digital ID card number here in order to check its validity.
Step 2. Download the right software from installer.id.ee.
Step 3. Connect your digital ID -card with your computer through the card reader.
Your received the card reader as part of the e-Residency kit, and you can connect it via USB port.
Step 4. Locate and launch DigiDoc4 Client.
This is the software that you downloaded. Make sure your ID-card is inserted in the reader and connected to the computer.
Step 5. Select "Signature" from the menu on the left.
It's very easy to see it, as there aren't many options.
Step 6. Drag the files to be signed into the window that opened, or click on "… or load file from the disk".
To sign the file, you can drag or select multiple files to upload into the container in the DigiDoc4 application.
Step 7. Make sure that the software displays your personal data.
 If everything is in order, click on "Sign with ID-card".
Step 8. Enter PIN2 for your ID-card.
That means you have signed the document with digital signature that by law is equal to the hand written signature. You will find the PIN2 code in the envelope that came with your Digital ID-card.
If the signing process is successful, your documents will appear in the digitally signed container in the main view with information about the signature as is shown here.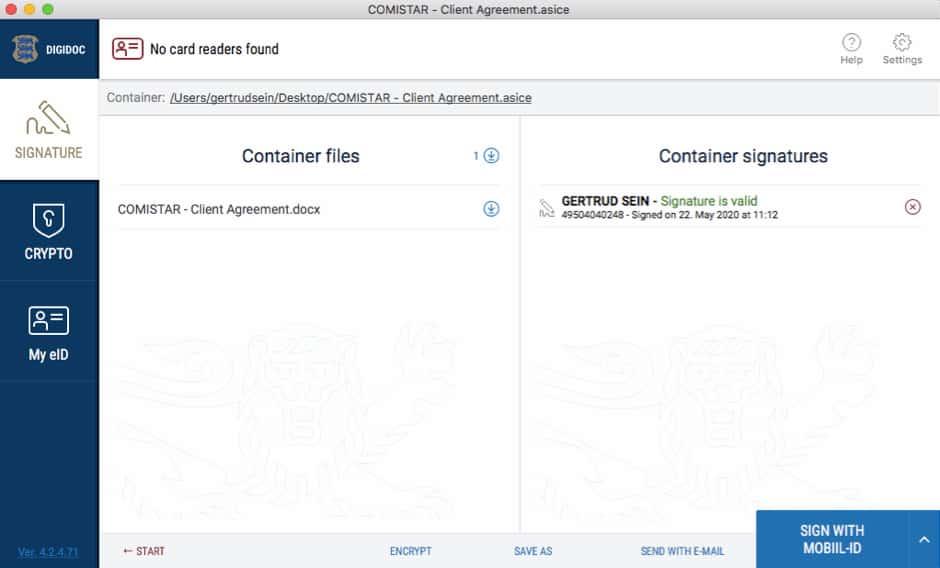 If you encounter problems using your digital signature then you can find instructions from the ID card help centre.
Conclusion
Signing documents with the e-Residency card is very simple and it's a legally binding signature. If you have any questions about starting or managing your Estonian company, contact us at hello@comistar.com. If you are just getting started and would like to know more about e-Residency, then navigate to our article here, and here to learn more about taxation.