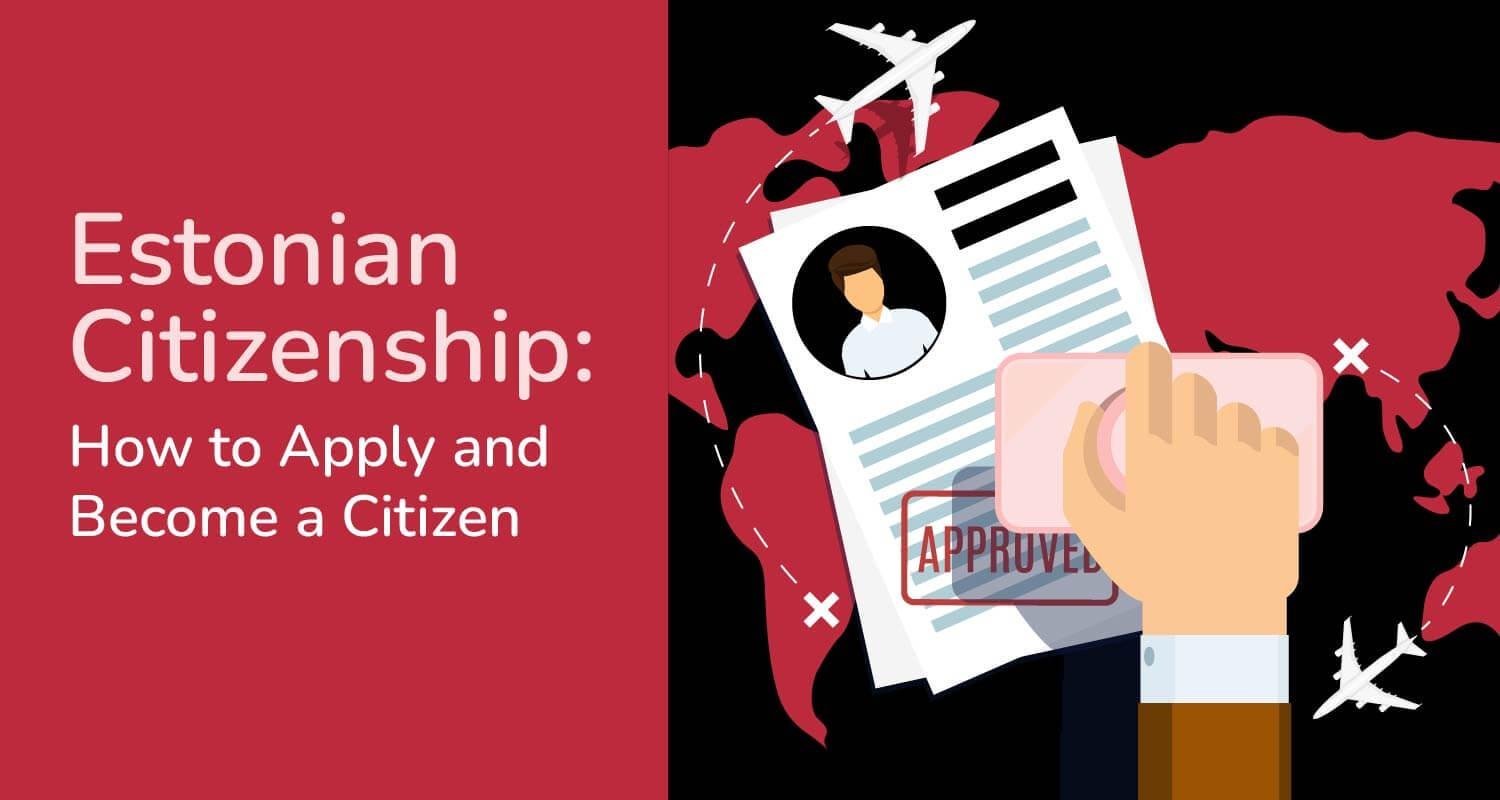 Estonian Citizenship: How to Apply and Become a Citizen
The Republic of Estonia grants citizenship to foreigners under the Citizenship Act of 1995.
People from different countries can attain citizenship in Estonia, whether adults or children, as long as they meet a few criteria.
This guide will cover the various ways to become an Estonian citizen.
The Benefits of Estonia Citizenship

According to the Estonian Constitution and Citizenship Law, anyone born to an Estonian parent is automatically granted citizenship.
With that, there are many benefits to holding Estonian citizenship.
Estonian citizenship lets you vote and run as a candidate in Estonia. You can also open a business or work anywhere in the EU.
The Republic of Estonia also grants Estonians protection, meaning non-Estonians can visit Estonia for temporary residency if a family member invites them.
You'll also have all the RIGHTS that EU citizens enjoy in other EU member states, like:
Free movement through other EU member states
The right to permanent residence in any other EU country
Visa-free travel to all the different countries within the European Union
How to Become a Citizen of Estonia

Thanks to the Citizenship Act of 1995, there are multiple ways to attain Estonian citizenship.
By naturalization
By marriage
By descent
Additionally, one of the most VITAL criteria for gaining Estonian citizenship is to learn Estonian, the official language of Estonia.
Applicants who wish to gain Estonian citizenship must have a B1 proficiency in Estonian.
However, anyone who has completed basic, secondary, or higher education in Estonian is exempt from taking this exam.
FUN FACT: People who have previously lost their citizenship can also have it restored upon payment of a €13 fee.
Now, let's dive into the 3 ways you can become an Estonian citizen:
By Naturalization
Acquired Estonian citizenship can be attained by any person who meets the following criteria:
You've lived in Estonia for at least eight years with a residency permit.
You have a permanent legal income, so you can financially support yourself.
Your place of residence is registered in the Population Register of Estonia.
How to Gain Permanent Residence
If you have been living in Estonia with a temporary residence permit, you can apply for a long-term residence permit.
You need to have stayed in Estonia for five years prior to submitting your long-term residency permit.
NOTE: You will need to be covered by health insurance and be able to support yourself with a permanent legal income.
You'll also need to ensure that the details concerning your place of residence are registered in the Population Register of Estonia.
Submit your application for long-term residency or renew your current temporary permit at least 2 months before your current residency permit expires.
Prepare for an Examination
Persons who wish to become citizens of Estonia will first be tested on their knowledge of the Constitution of the Republic of Estonia.
Anyone wishing to become an Estonian citizen must pass the Estonian Citizenship exam. This exam is available in different Estonian cities (Tallinn, Narva, Jõhvi, and Tartu).
The exam will test the applicant's knowledge of the fundamental rights of all Estonians, including their freedoms and obligations.
Applicants must also pass the Estonian Language Proficiency examination and must achieve a B1 proficiency in Estonian to be eligible for citizenship.
You will be given 45 minutes to answer 24 questions. You pass if you answer 18 questions correctly.
By Descent
Any child with at least one parent that is a citizen of Estonia is an Estonian citizen by birth.
A child with parents that hold different citizenship may have dual citizenship until they turn 18.
Regardless of their parents' status, the child will either lose their Estonian citizenship or the other country's citizenship. However, they are given 3 years to choose.
If your parents revoked your citizenship while you were a minor, you may restore it as an adult.
For Minors
Minors can achieve Estonian citizenship in the following situations:
The minor's guardian has Estonian citizenship. If the child's parents have different citizenship, the guardian must have the consent of the other parent.
A single parent with Estonian citizenship is raising the child.
By Marriage
If you are married to an Estonian national, you will be granted temporary residency for five years.
This residency can be extended to permanent residency after three additional years and submitting the required documents.
How to Apply for Estonian Citizenship

Once you've passed the Estonian language proficiency examination, there are a few more documents you'll need to submit before you can apply and be granted Estonian citizenship.
You might also need to book an appointment at the official website of the Estonian government.
List of Documents Required
Digital photo - It should be taken recently, be passport-sized, and have a blank background.
A valid passport - Ensure that your passport is valid for the next 6 months, is in good condition, and has 2 blank pages, minimum.
A recent bank statement - Your bank statement should be from within the last 6 months and prove you have an income from Estonia.
State fee - Make a €13 payment to the Estonian Police and Border Guard Board when submitting your other documents.
A completed application form - Fill out this form in the Estonian language, and sign it when it's completed.
Proof from your home country - This government-certified document should prove that you have been released from citizenship in your old country.
Passed language test - A certificate proving you've passed the Estonian language test.
Birth or marriage certificate - Only if applicable, and either the certified or original copies will do.
Post-Submission
You will be notified by Estonia's Police and Border Guard Board when you've been granted citizenship.
The next step is to apply for your Estonian passport and ID card.
Frequently Asked Questions

Have other lingering questions? Learn more about becoming a citizen of Estonia here:
Does Estonia Allow Dual Citizenship?
Dual citizenship is NOT recognized under Estonian law.
You cannot simultaneously hold your country's citizenship and be a citizen of Estonia.
Only an Estonian child can temporarily have Estonian citizenship simultaneously with that of another country if either his or her parents hold a different citizenship.
However, once the child turns 18, they must choose whether to remain an Estonian citizen or not.
How Long Does It Take to Become an Estonian Citizen?
Children who were born in Estonia are automatically granted citizenship.
However, foreign adults are required to have lived in Estonia for a minimum of eight years before they can become nationals of Estonia.
This residence should have been granted under a residence permit, and the last five years of residence must have been on a permanent basis.
Be aware that establishing an online business in Estonia WON'T grant you citizenship, regardless of the services you offer.
How Can I Become a Citizen of Estonia Online?
In 2014, the Estonian government launched its "e-Residency" initiative, allowing any foreign national to functionally become an Estonian citizen for business purposes.
Anyone who wishes to do business in Estonia will need to gather the following:
A passport-style digital photo
Your Visa or Mastercard
A copy of your government-issued ID
Your Mission statement
Pay a state fee of €100-120, depending on where you applied, and wait 3-8 weeks.
Once the Police and Border Guard Board has cleared you, you will receive an email to collect your e-Residency kit.
NOTE: Being an online citizen of Estonia is different from having a long-term residence permit and will not let you live in other EU member states.
How Much Does Estonian Citizenship Cost?
A state fee of €13 is required to finalize your Estonian citizenship. This also applies to Estonian citizens with lost Estonian citizenship.
This fee may be paid at your nearest Border guard board service office with either cash or card.
Anyone unable to pay the fee may be exempted from payment or pay a reduced fee after filling out an application for exemption or reduction and submitting supporting documents.
Conclusion

Becoming an Estonian citizen requires knowledge of the Constitution of Estonia, permanent residency in Estonia, and loyalty to the Estonian state.
After submitting the proper documents, you can enjoy the benefits of Estonian citizenship, like:
Visa-free travel to different EU member states
The ability to open a business or work anywhere in the EU
Becoming a citizen of Estonia will also let you work, study, and live in the 26 Schengen countries, including Belgium, France, and Germany!
You can find more information about obtaining an Estonian citizenship on the website of the Estonian Police and Border Guard.