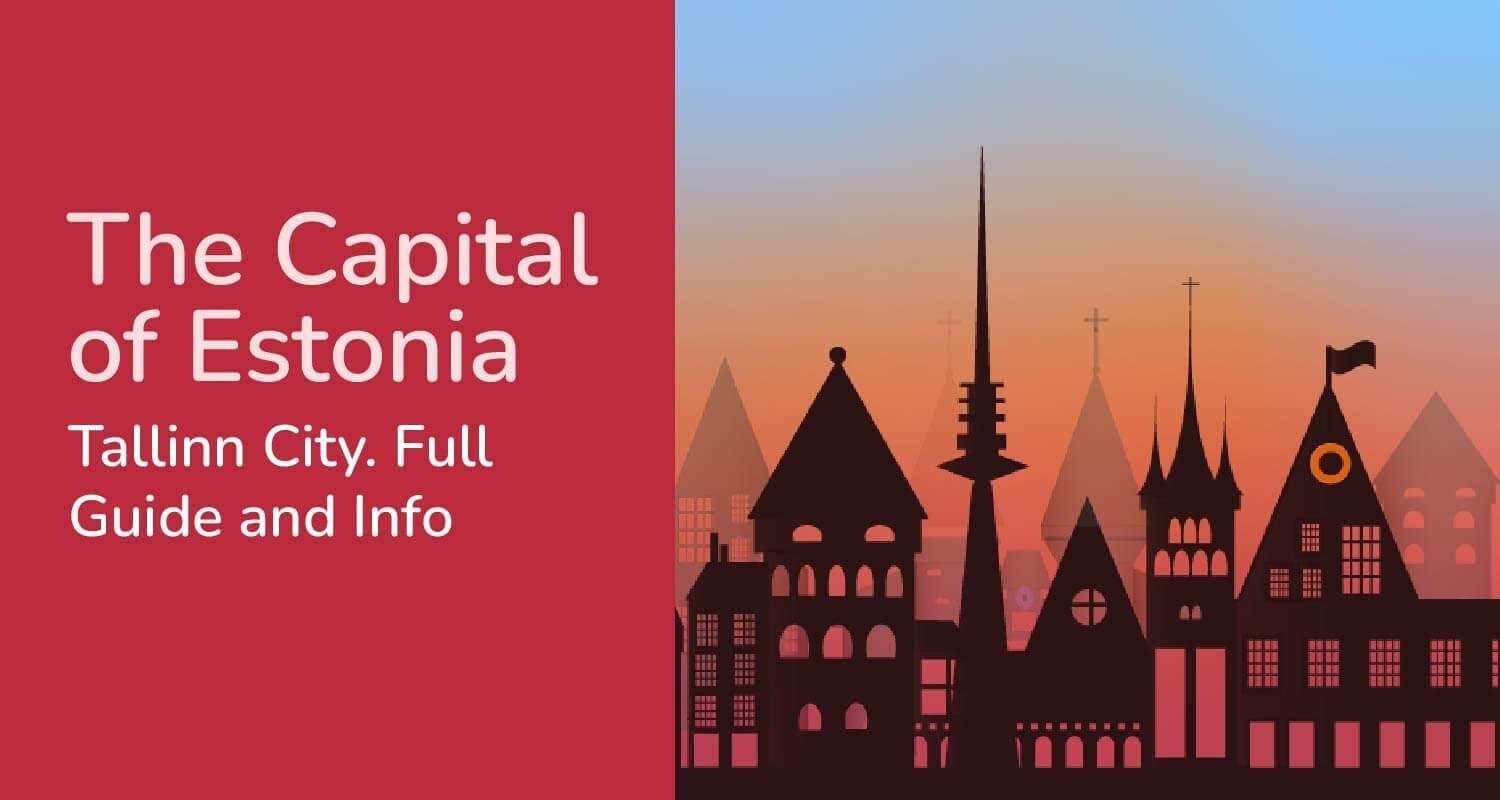 The Capital of Estonia - Tallinn City [Full Guide & Info]
Tallinn is the capital of Estonia. It's a place that fits the definition of "history meets the modern world!"
It's a well-preserved UNESCO World Heritage Site despite the emergence of advanced technology.
Tallinn is also filled with business opportunities and explorations. There's so much to say about Tallinn, so this article is here to give you a crash course!
What Is the Capital of Estonia?

The capital city of Estonia is Tallinn, known by some as Raval, which was its German name. They were officially named Tallinn after winning independence from Germany in 1918.
The capital is located along the Baltic Sea, 80 km south of Finland, Helsinki. It is on the northern coast, particularly the northernmost part of the three Baltic countries.
You can easily find Tallinn between the Baltic Sea and the Gulf of Finland on the map. More specifically, it is east of Stockholm and west of Saint Petersburg.
But that's enough geography for now – let's discuss its rich cultural scene and history.
When Did Tallinn Become the Capital City of Estonia?

Tallinn became the capital city of Estonia in 1991 after declaring independence from Russia. Before reaching this point, the capital went through a long history of foreign occupations.
When trade improved in the Gulf of Finland during the 9th and 10th centuries, Tallinn, with its geographic advantage, became a mid-facilitator between Russia and other European countries (particularly Scandinavia).
The Nazis also invaded this European capital, but the victory of the Soviet Union returned power to Russian communism, explaining the presence of Russian culture in Tallinn today.
History of Tallinn City
As mentioned above, Tallinn's old town is rich in history, and much of its remnants were preserved. That's because Estonian history is rich and has gone through a lot.
Here's a simplified timeline:
1st millennium BC to 12th century AD - Tallinn old town has an existing settlement
1219 - Danes (Denmark) captured Tallinn and built the Toompea Castle
1285 - Joined the Hanseatic League or Hansa (a German organization for merchants and business purposes)
1346 - Sold to the religious order of Teutonic Knights
1561 - Teutonic Order was dissolved; the ruling was passed on to Sweden
1710-1917 - captured by Peter I, emperor of Russia. This Estonian capital was a Russian city for all these years
1918-1940 - The Estonian state gained independence (Russia was the first country to grant freedom to draw them closer)
1941-1944 - The Estonian state was severely damaged by German occupation; imprisonment and exile were rampant until 1949 (even during the German invasion, Estonia was part of the Soviet Occupation under Russia)
1991 - Estonian independence was formally declared (until present)
After the exile in the 40s, many Estonian residents fled to other countries like Sweden and North America.
Several Russians then moved to Estonia, and they comprise 2/5 of the Estonia population at present. But with ethnic Estonian nationals, many of them still speak the Estonian language.
Politically, Tallinn town is under the unicameral parliament of Estonia, led by a prime minister, a justice of the supreme court, and a president.
Where Is Tallinn Located?

This largest city is the main port of Estonia. Again, it's one of the Baltic states in Northern Europe and is located east of the Baltic Sea and on the southern coast of the Gulf of Finland.
How to Get to Tallinn City?
There are many ways to arrive in this global city. One of our favorite features here is the ease of transportation.
You can get here from Eastern Europe, Central Europe, and Western Europe without a problem.
By Plane
You can check out flights and other information on the Tallinn airport website. The airport is conveniently near the city center and is accessible via tram, taxi, bus, and private cars.
By Boat
Since Estonia is surrounded by the largest lake and bodies of water, it is easy to get there by ferry. There are multiple cruise ships and ferry harbors that you can access.
You can check out other information here.
By Bus
The town is connected by two tram lines and eight buses, making it easily accessible whether you're from Latvia, Lithuania, Poland, and other European cities.
European Union nationals don't need visas, but if you're from a non-European country, it's best to follow visa requirements according to your country.
For more information, visit this site.
Features & Things to Do in Tallinn City
This Estonian town is the perfect holiday destination for many reasons.
There are many attractions, and the average temperatures are 17 to -5 degrees, thanks to the fact that forests cover a significant portion of the country.
Maiasmokk Cafe

It's the oldest cafe in Estonia, where many delicious baked goods are sold. It also houses the Marzipan Museum, and the historical designs are well-preserved.
St. Olaf's Church

Named the tallest building in the world from 1549 to 1625, this is a hard-to-miss landmark in this old Estonia town.
It was built by King Olaf II in the 12th century and is now an active Baptist church that furthers the religious Estonian ministry.
The Other Capitals of Estonia
Besides Tallinn, Estonia has many beautiful old town capitals in Europe:
Tartu

Tartu houses many Estonian academy institutions and universities – you may have heard of Tartu University.
It is also known for its cycling culture, with streets and destinations being safe and optimal for bicycles!
Põltsamaa

This capital is in the center of mainland Estonia, where delicious wines and restaurant bars are located.
Frequently Asked Questions
Is Estonia Part of Russia?
Estonia used to be under the Russian Empire but has gained complete independence since 1991.
Is Tallinn Worth Visiting?
Yes! Tallinn is a digital city with preserved culture. It is advanced (with electrical equipment imports) but still restored much of its rich history, which reflects in the various tourist destinations.
When Is the Best Time to Visit Tallinn City in Estonia?
Our recommendation is between spring and summer when the weather is most beautiful. But if you love snow activities, you'll enjoy Otepää, too.
Why Is Tallinn Famous?
Tallinn has many tourist attractions that feature Estonia's rich history and culture.
The convenient transportation around Estonia also makes it easy to navigate, and you experience a merge of "old and new" in this town.
Final Words
Tallinn in Estonia is one of the most beautiful places to visit, with vast opportunities for tourists and business people.
Visit if you can! If not, the online world is always open as well. There's nothing this digital capital can't adapt to!
You can find more information about the capital of Estonia on the Tallinn homepage.